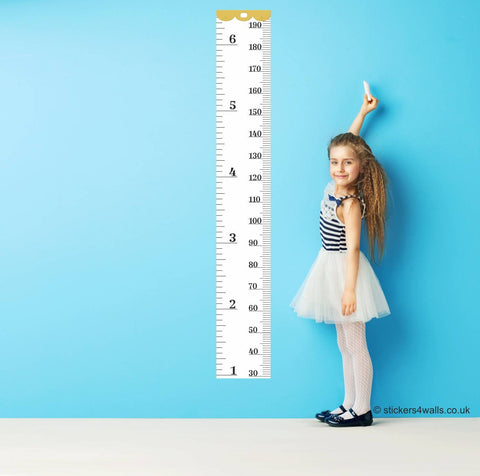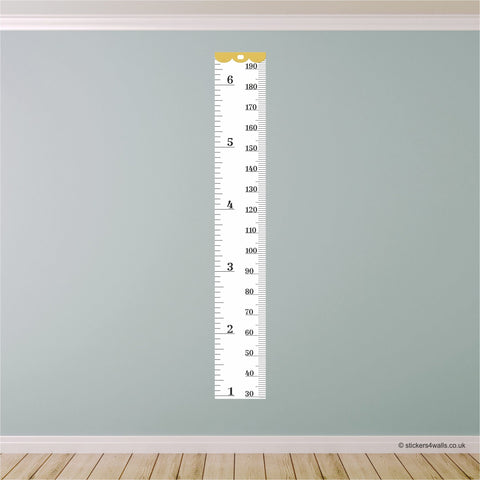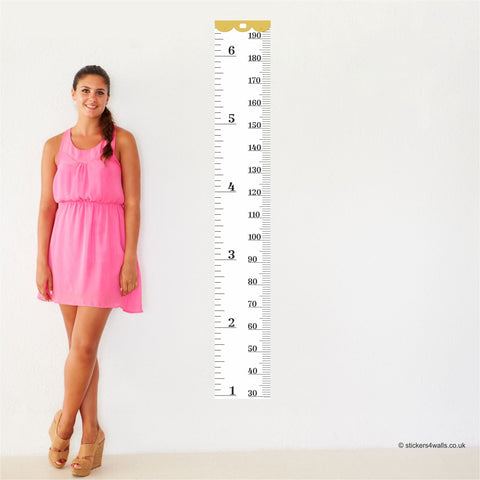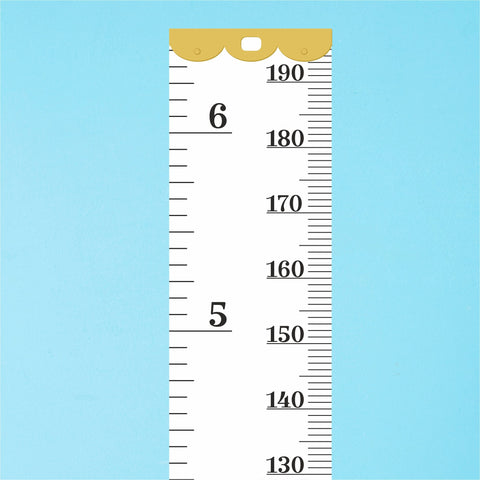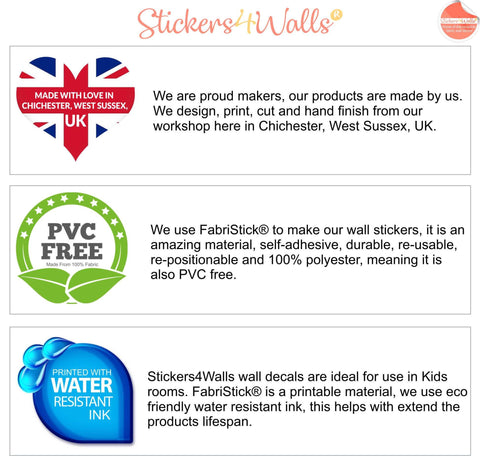 Stickers4Walls
Tape Measure Height Chart Wall Sticker - Reusable
A fun tape measure style height chart wall sticker. Made from high quality printed adhesive fabric that can be moved around and does not tear, unlike traditional vinyl wall stickers. You can also write names and dates by the measuring marks, to keep a log of your growing family, using most kinds of pen or graphite pencil. Should you move house, just carefully peel it off the wall, store on the backing sheet ( it's best to keep this somewhere, in case) ready to reapply to your new wall in your new home. The wall sticker is smooth to the touch with a matt finish, the background is white and the numbers and measurement marks are black. It is styled to look like a traditional dressmaker measuring tape with the 'gold' tab at the top (please note this is not metallic).
The size of this height chart wall sticker is 25cm wide x 170cm tall. Featuring both metric and imperial measurements up to 6' 6" or 197cm - starting at the bottom at 1' or 30cm to allow for skirting boards.
How do I use them?
Simply peel off the backing sheet and get sticking! Our FabriStick® wall stickers made from a printable 100% polyester self-adhesive material, free from PVC. We also print using eco-friendly, water resistant inks, extending the lifespan of your product and making it ideal for use in children's rooms. You can move them around as often as you like as they do not lose their stick over time. Use them on walls, cupboards, wardrobes, glass, in fact most smooth or even textured surfaces. It is important to make sure that the surface is free from dirt and grease (wipe clean if required) and that it is dry. All stickers are 100% polyester and are PVC free. A really quick and fun way to brighten up walls and furniture.
Please note that we have made every effort to make the colours on screen as accurate as possible, colours on screen may vary depending on your screen settings and resolution compared to the actual product.
**Helpful hint: Please be careful about newly painted walls; most take at least 30 days to cure fully, so please wait before applying the sticker if you have been painting!
Please note we are based in the UK - please see our shipping policies for an estimate of shipping time. All our products are designed and made in our workshop in Chichester, West Sussex UK.