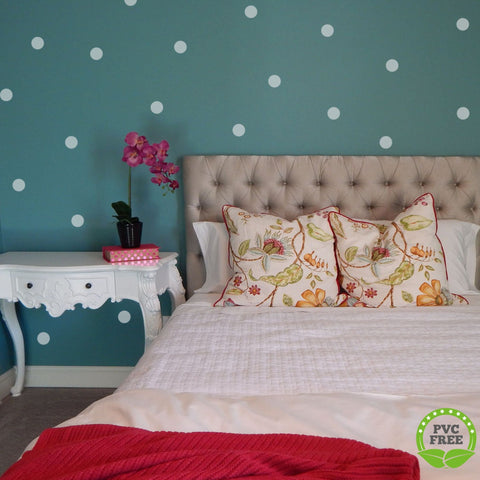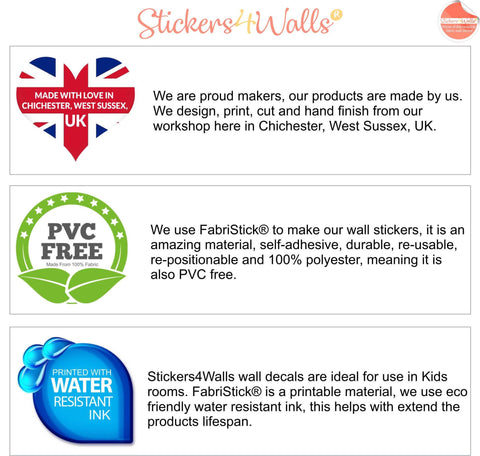 Stickers4Walls
Soft Grey Fabric Polka Dot Wall Stickers - Reusable
A set of grey polka dot wall stickers made from our premium quality fabric wall sticker material, FabriStick®. This is a premium product which is 100% polyester and free from Pvc, the fabric is soft to the touch yet very durable and can be reused and repositioned with out leaving any residue, and we print using a water resistant ink! Our wall stickers are ideal for home decoration with out the use of glue or nails, perfect for rental properties, uni halls, or movable residence.
These gorgeous dotty wall stickers are ideal for any home interior, bedroom, living room, lounge, games room, study, be inspired ! Our lovely soft grey works with pretty much every other color, the beauty of grey, we love it, always on trend. But if you would like other colours please just drop us a note through our contact page and we would be happy to help! Our premium quality fabric wall stickers are really easy to put up, and can be moved around if required. Simply peel off the backing sheet and arrange as required.
Product Dimensions and Contents
Choose between 3 different pack sizes:
Pack 1 : 50 x 35 cm sheet: 48 dots, each dot 5.5 cm diameter
1/2 Pack 1 : 24 dots, each dot 5.5cm diameter [**New by customer request for a top up pack for Pack 1]
Pack 2 : A4 (21 x 30 cm) sheet: 24 dots, each dot 4.5 cm
Our stickers are:
100% soft woven polyester and free from PVC. we also print using eco-friendly water-resistant ink make these ideal for use in children's rooms and extending the life span of the product. You can reposition them many times over, simply peel off and re-stick! Happy Decorating!
Designed, printed and hand finished in our workshop in Chichester, West Sussex, UK.
*Helpful hint: Please be careful about newly painted walls; most take at least 30 days to cure fully, please wait before applying the sticker if you have been painting or they might not adhere well and could damage the paintwork. Our fabric stickers are so simple to apply. Just peel them off the backing sheet and off you go! Please make sure that wherever you stick them, it is free from dirt and grease (wipe clean if required) and that it is dry. To note adhesion is not as effective on surfaces painted in 'washable paints' we would recommend sticking to surfaces painted in a standard emulsion for best adhesion.