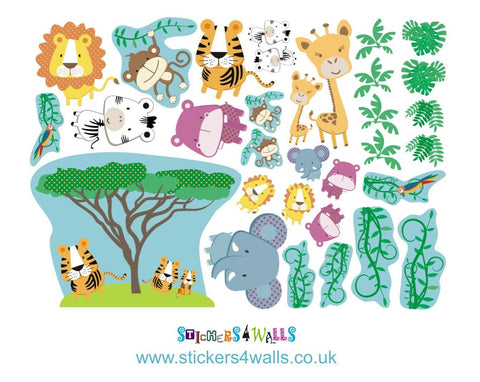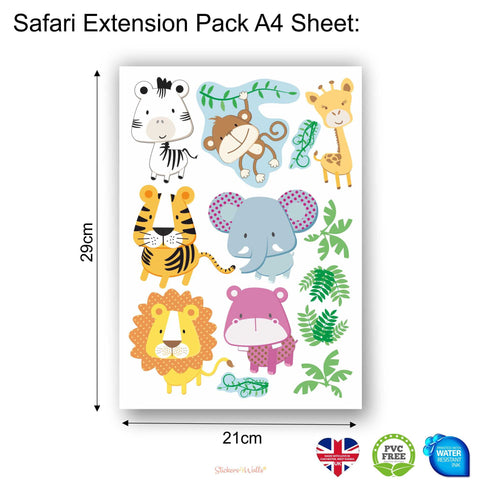 Stickers4Walls
Safari Animal Fabric Wall Sticker Set - Reusable
A set of reusable safari animal fabric wall stickers for a child's bedroom, nursery or playroom. instant decoration with peel and stick wall stickers, peel from the off the backing sheet and get decorating - don't worry about crinkles or bubbles as they can easily be smoothed out - even if they stick on themselves you can simply unstick them! A fast and engaging way to add a splash of colour and fun to a room. This wall sticker set includes a scene with tigers under a tree, giraffes, lions, elephants, hippos, monkeys and zebras together with vines and foliage. Our wall stickers are reusable and repositionable, each item is an individual sticker letting create a design to suit your space.
Sheet size:
50cm x 35cm
Including:
1 x Tigers scene: 25cm x 18.5cm
4 x Vines: large 12cm - small 8cm
2 xVines with parrots: 9cm
3 x Monkeys: large 10cm - small 5cm
3 x Lions: large 10cm - small 5cm
3 x Zebras: large 10cm - small 5cm
3 x Hippos: large 8.5cm - small 5cm
2 x Elephants: large 10cm - small 5cm
2 x Giraffes: large 15cm - small 9cm
1 x Tiger: 10cm
8 x Foliage 5cm
Our popular 'Kids Safari Range' also has an additional 'Safari Animal A4 Extension Pack' and our 'Giraffe Height Chart'. Buy together with the 'Safari Animal Sticker Set' and 'Safari A4 Extension Pack' together and save £15.00, making it even easier to create a matching theme though out your room or home. Please select the option you would to order from the drop-down menu.
Our stickers are:
100% soft woven polyester and free from PVC. We also print using eco-friendly water-resistant ink making these ideal for use in children's rooms and extending the life span of the product. You can reposition them many times over, simply peel off and re-stick! Happy Decorating!
Designed, printed and hand finished in our workshop in Chichester, West Sussex, UK.
*Helpful hint: Please be careful about newly painted walls; most take at least 30 days to cure fully, please wait before applying the sticker if you have been painting or they might not adhere well and could damage the paintwork. Our fabric stickers are so simple to apply. Just peel them off the backing sheet and off you go! Please make sure that wherever you stick them, it is free from dirt and grease (wipe clean if required) and that it is dry. To note adhesion is not as effective on surfaces painted in 'washable paints' we would recommend sticking to surfaces painted in a standard emulsion for best adhesion.