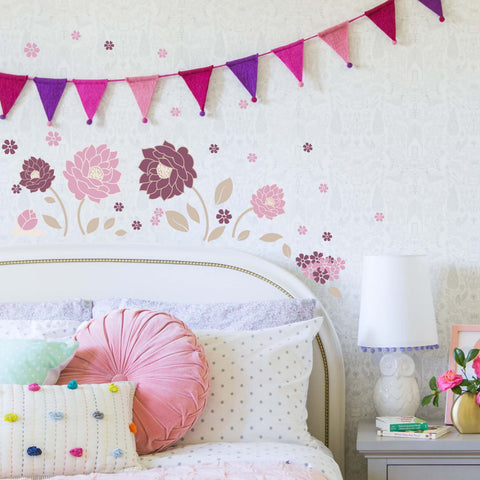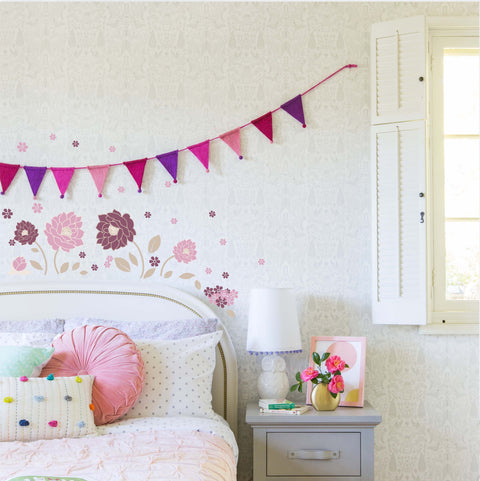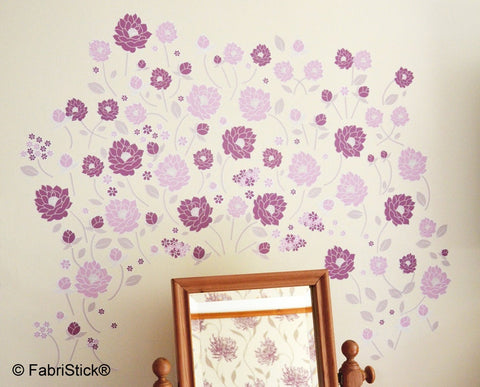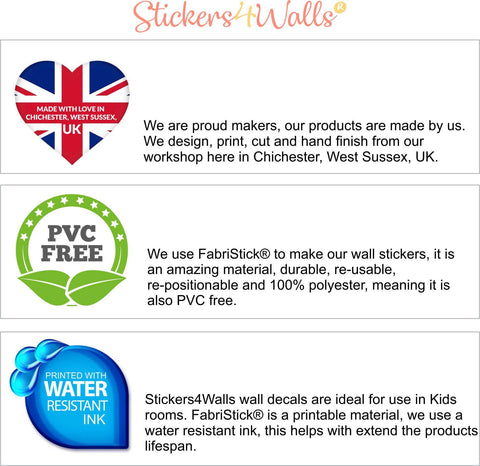 Stickers4Walls
Retro Purple Flowers Wall Stickers - Reusable
We all love a bit of retro, these reusable fabric flower wall stickers are just the ticket. The pack includes over 60 flowers, together with stems and leaves, each item is an individual sticker letting you can create a stunning layout to perfectly fit your space. Our FabriStick® wall graphics are made from tough, tactile high-quality adhesive fabric, and you can peel them off the wall and move them around, unlike traditional vinyl wall stickers. Re-positionable and removable, you can change the designs as and when you desire.
You can apply your wall stickers to walls, cupboards, glass - pretty much any smooth or even bumpy surface. They can be repositioned time after time without losing stick, without causing surface damage. These stickers are lightweight, waterproof, do not tear, and have a tactile, smooth, matt fabric texture. We absolutely love them, and we hope you will too!
Our fabric wall stickers are tough and repositionable, they can be removed and re-stuck should you need. Made from FabriStick® a printable self-adhesive material, 100% polyester and free from PVC. We also print using eco-friendly water-resistant inks, helping extend the life span of your product and making them ideal for use in children's rooms.
Designed and made in our workshop in Chichester, West Sussex, UK. We take care in hand-finishing and packaging every order. Perfect in your home, rented accommodation, caravans, motorhomes, boats, you name it. No nails, lightweight, no mess.
Please note that we are based in the UK - check our shipping policies to see an estimate of shipping time.
Product Details
Quantity per sheet
8 large flowers (4 pink, 4 purple)
8 medium flowers (4 pink, 4 purple)
12 large buds (6 pink, 6 purple)
4 small buds (2 pink, 2 purple)
30 small flowers
2 flower groups
57 leaves
46 stems
*please note that two packs of wall stickers were used in the photos.
Object Dimensions
Large flowers 83mm x 847mm
Medium flowers 50mm x 51mm
Large buds 46mm x 43mm
Small buds 30mm x 28mm
Small flower group 68mm x 41mm
Small flowers 20mm2 and 13mm2
Leaves 9mm x 17mm to 22mm x 42mm
Really simple to apply. Just peel them off the backing sheet and off you go! Please just first make sure that wherever you stick them, it is free from dirt and grease (wipe clean if required) and that it is dry.
**Helpful hint: Please be careful about newly painted walls; most take at least 30 days to cure fully, so please wait before applying the sticker if you have been painting or they might not adhere well and could damage the paintwork if you move them.
All our products are designed and made in our workshop in Chichester, West Sussex UK.