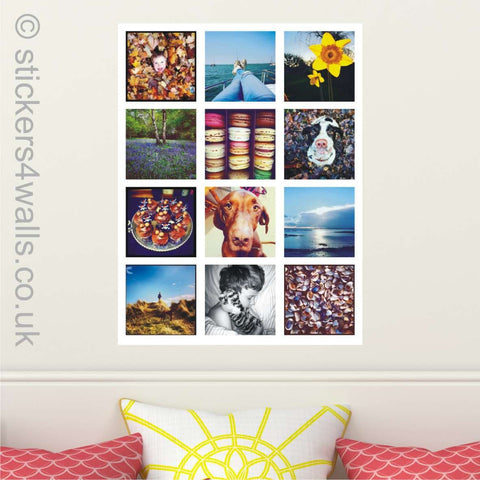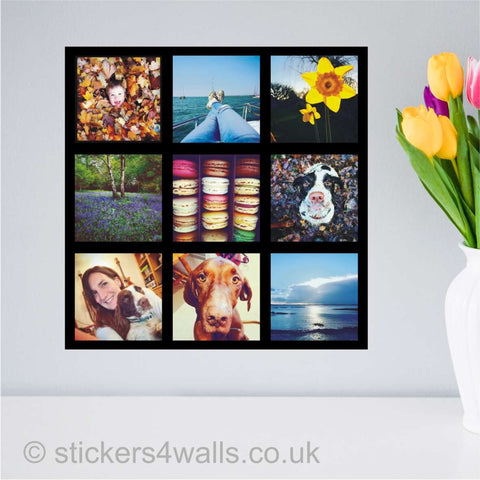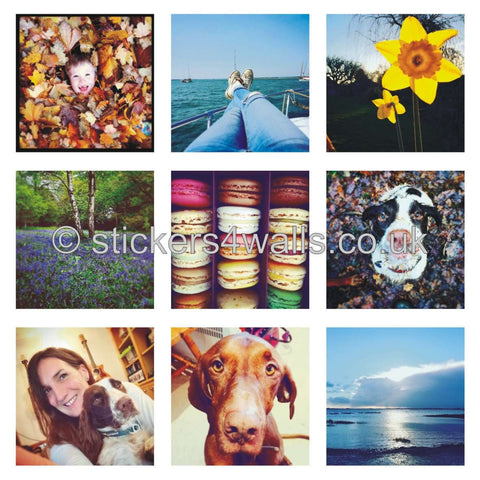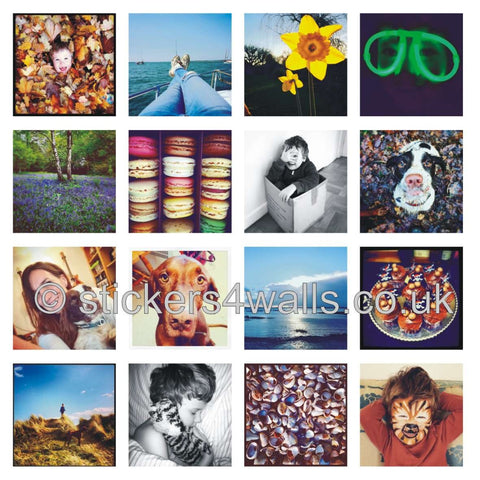 Stickers4Walls
Personalised Photo Instagram Wall Sticker Poster - Repositionable
Choose your background colour:
Have your favourite Instagram or other photos printed onto a high-quality wall sticker that you can remove and reuse if you move house or uni Halls!
We all have memories that are so precious to us that we want to remember them forever. Lots of us use Instagram and our camera phones to capture those moments, and now you can transfer any of those photos onto our fantastic repositionable, removable fabric wall stickers, made from high-quality wall sticker material. They make fantastic presents for that special occasion, whether is is as a gift for a 16th, 18th, 21st, 40th or bigger birthday! These lovely posters save a fortune on picture frames and frustration with the hammer and nails.
These Instagram-style print adhesive posters come in three sizes, with a choice of a black or white background - please select from the drop-down menu. The 350x350mm poster wall sticker can fit 9 photos (100mm square) on it, the 350x500mm fits 12 photos (100mm square) on it and the large 700x700mm fits 16 photos (150mm square).
When your lovely printed photo collage wall sticker arrives, simply peel off the backing and apply to walls, wardrobes or any smooth or even textured surface. Keep moving them around until you are happy with their placement.
Photos and sizes per sheet:
9 photos 10cm x 10cm (35cm x 35cm sheet)
12 photos 10cm xm 10cm (35cm 50cm sheet)
16 photos 15cm x 15cm (70cmx70cm sheet)
Looking for bigger prints? We print individual prints at a 20cm x 20cm, or even a larger 30cm x 30cm, please see separate listings.
Please upload any file or logos needed to https://stickers4walls.wetransfer.com/ using your name and order number as a reference.
Our FabriStick® fabric wall stickers are water-resistant, have a non-reflective, matt, smooth woven fabric texture and do not tear. You can reposition them if needed, just peel them off the wall and reapply elsewhere. Use them on walls, cupboards, glass, in fact most smooth or even textured surfaces. Perfect for rental properties or Uni houses where you are limited to the decorations you can use.
It is important to make sure that the surface is free from dirt and grease (wipe clean if required) and that it is dry. All stickers are 100% polyester and are PVC free. A really quick and fun way to brighten up walls and furniture. We do recommend that you wait at least a month after painting a wall before you apply any wall sticker, and fabric wall stickers are no exception. We always recommend that you do a tape test (apply a piece of masking tape firmly and them remove) on your wall before applying stickers.
Please note we are based in the UK - please see our shipping policies for an estimate of shipping time. All our products are designed and made in our workshop in Chichester, West Sussex UK.