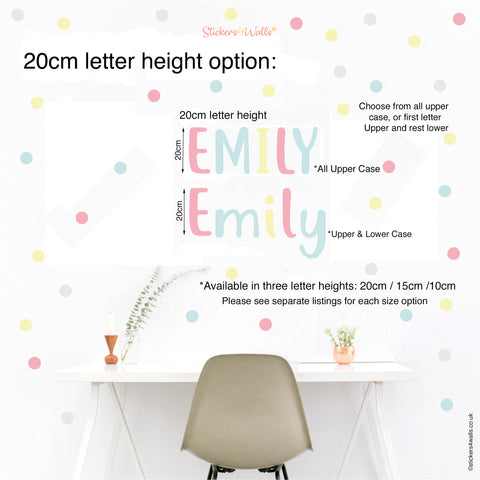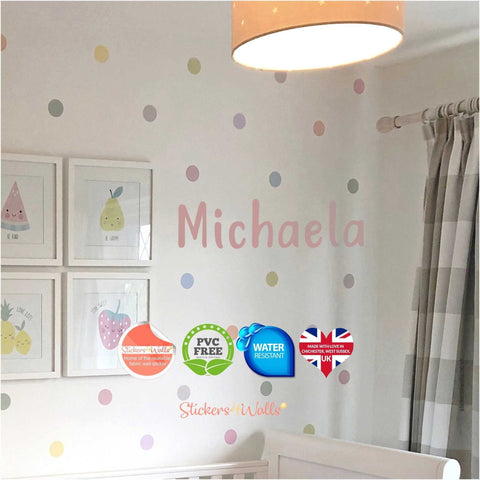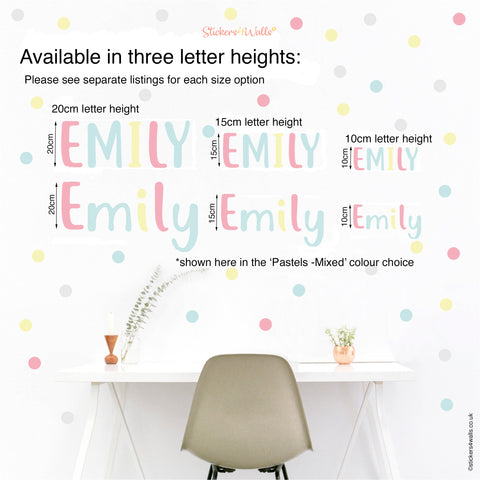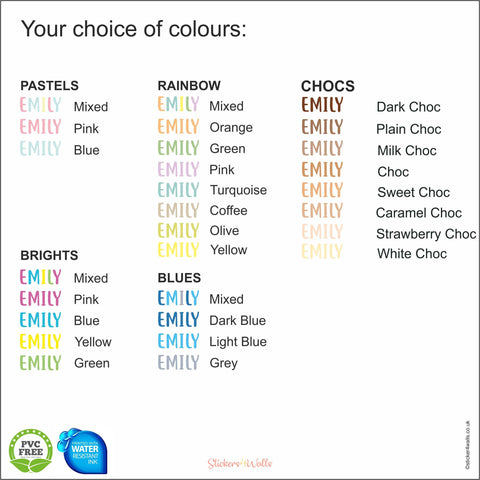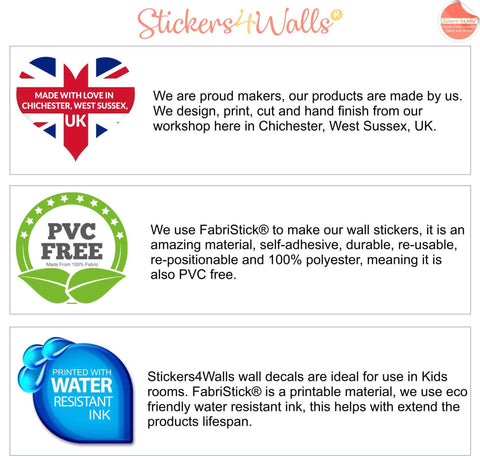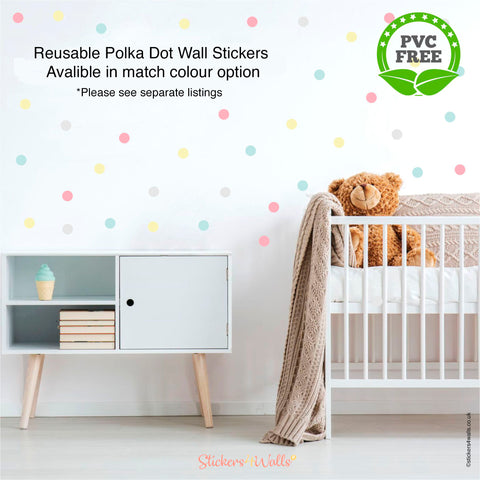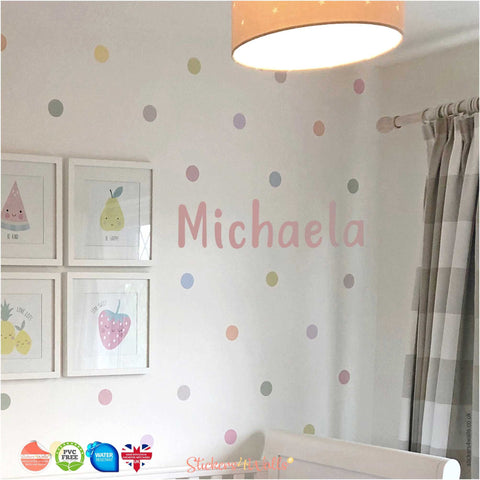 Stickers4Walls
Personalised Name Fabric Wall Stickers, 20cm Height Letters - Reusable
Number & style of letters:
Create your own set of named wall stickers, personalised with your child's name. A new design option to tie in with our popular polka dot range, available in the same range of colours as our existing polka dots to create a coordinated room décor. Choose from the main five polka dot colour set options: Brights, Rainbow, Paste, Blues or Chocs, with options within each main range, that's your choice of 28 colours! Available in upper or lower case fonts, choose to have all upper case or the first letter in upper followed by the rest in lower case. Each letter is an individual sticker allowing you more flexibility with your design. Made from FabriStick® our premier adhesive fabric, it is a tough and durable material that can be repositioned many times over. We print using eco-friendly water-resistant ink too, all helping extend the life of the product and making it ideal for use in children's rooms.
Please select your colour choices from the first drop-down menu. Secondly, choose the number of letters and whether it is ALL UPPER or UPPER&lower case from the second drop-down menu - Thank you
Priced per letter:
20cm height letter = £2.00 per letter
On ordering enter the name you would like in the 'Add your personalisation' box provided, please double (even triple check) the spelling of the name you have entered as we will design and print to this! Please ensure the numbers of letters you have ordered matches the number of letters in the name you request. I
Other sizes available in the same range including: (please see separate listings)
10cm height letters: 
15cm height letters: 
We currently offer between 2 and 10 letters, please do get in touch if you require more than 10 letters, we are more than happy to create a custom order especially for you
Our reusable stickers are easy to apply, simply peel and stick. We would recommend keeping the original backing sheet, should you ever move you can take your stickers with you and use them again. Carefully unpeel and replace on your sticker on to the backing sheet ready to use in your new home.
Our stickers are:
100% soft woven polyester and free from PVC. We also print using eco-friendly water-resistant ink making these ideal for use in children's rooms and extending the life span of the product. You can reposition them many times over, simply peel off and re-stick! Happy Decorating!
Designed, printed and hand finished in our workshop in Chichester, West Sussex, UK.
*Helpful hint: Please be careful about newly painted walls; most take at least 30 days to cure fully, please wait before applying the sticker if you have been painting or they might not adhere well and could damage the paintwork. Our fabric stickers are so simple to apply. Just peel them off the backing sheet and off you go! Please make sure that wherever you stick them, it is free from dirt and grease (wipe clean if required) and that it is dry. To note adhesion is not as effective on surfaces painted in 'washable paints' we would recommend sticking to surfaces painted in a standard emulsion for best adhesion.