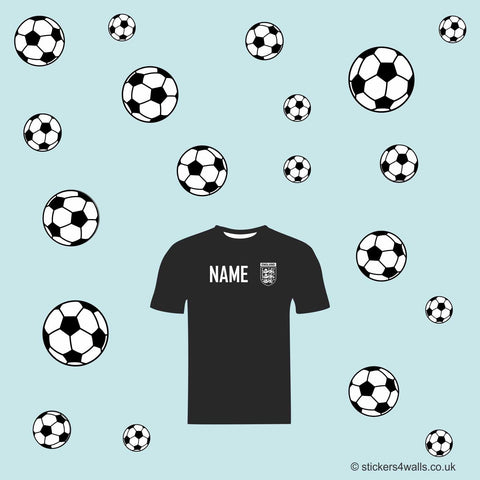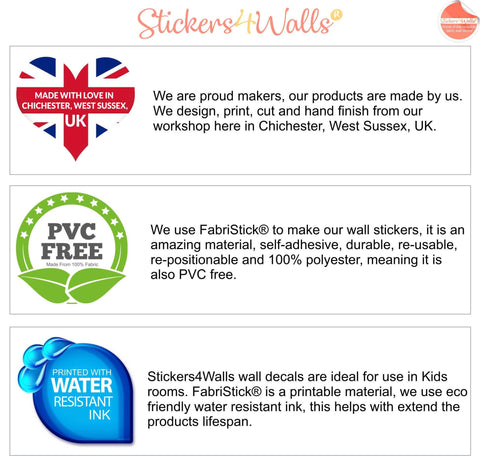 Stickers4Walls
Personalised Football Fabric Wall Sticker - Reusable
A neat personalised football wall sticker set, perfect for any footie fan. This pack of football wall stickers comes with a personalised football shirt wall sticker, with an England-style logo on it. With the soccer shirt customised with the name of your choice. Made from a reusable and repositionable fabric, each item is an individual sticker, letting you design your own layout to suit your space. Available in two size options and four colour options, on ordering please choose the size and colour you would like from the drop-down menus. Enter the name you would like in the football shirt in the 'Add your personalisation' box, please ensure you double check the spelling, we will make to what is ordered.

Sizes:

Size Option 1: 200 x 70cm sheet (1 x shirt 69 x 76cm & 21 x footballs 10cm - 25cm)
Size Option 2: 100 x 70cm sheet (1 x shirt 55 x 61cm & 18 x footballs 8cm - 18cm)

Colours:

Red: Red shirt with white lettering, plus red and white footballs

Blue: Blue shirt with white lettering, plus blue and white footballs

White: White shirt with dark blue lettering and sleeve/neckline, plus dark blue and white footballs

Black: Black shirt with white lettering, plus black and white footballs
*Please note our football shirts are a block colour and do not have an outline, this does mean they may not show up well against a simular colour wall, ie the white shirt will not show well on a white wall etc.

Our fabric wall stickers are really easy to apply. Simply peel off the backing sheet and stick it on the wall! We recommend starting centrally and smoothing out towards the edges. If you decide to go for the really big sticker set, you may need an extra pair of hands to stick it up just because it is so large. But if it twists or sticks on itself while you are putting it up, don't panic! Our Fabristick® wall sticker material is so tough you can simply un-stick it from itself and it won't be damaged, and then just smooth it on the wall. Brilliant!

Our stickers are:
100% soft woven polyester and free from PVC. We also print using eco-friendly water-resistant ink making these ideal for use in children's rooms and extending the life span of the product. You can reposition them many times over, simply peel off and re-stick! Happy Decorating!

Designed, printed and hand finished in our workshop in Chichester, West Sussex, UK.

*Helpful hint: Please be careful about newly painted walls; most take at least 30 days to cure fully, please wait before applying the sticker if you have been painting or they might not adhere well and could damage the paintwork. Our fabric stickers are so simple to apply. Just peel them off the backing sheet and off you go! Please make sure that wherever you stick them, it is free from dirt and grease (wipe clean if required) and that it is dry. To note adhesion is not as effective on surfaces painted in 'washable paints' we would recommend sticking to surfaces painted in a standard emulsion for best adhesion.