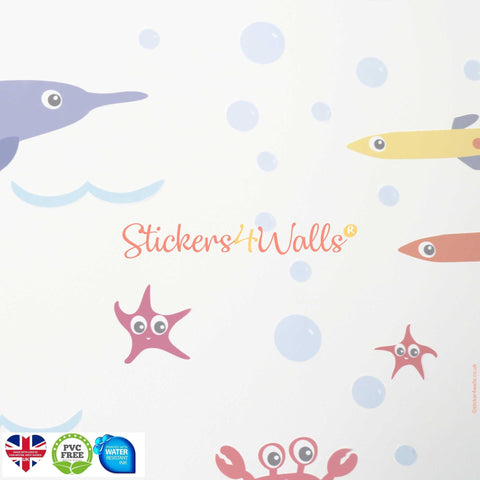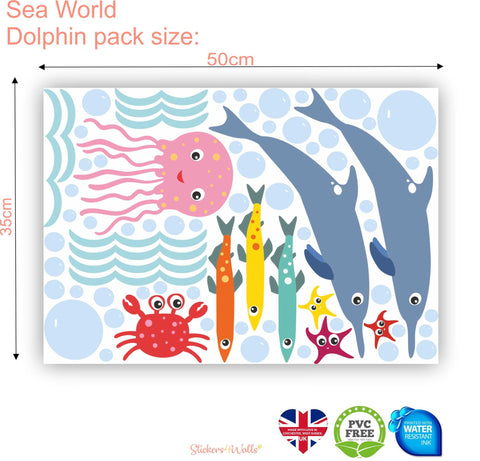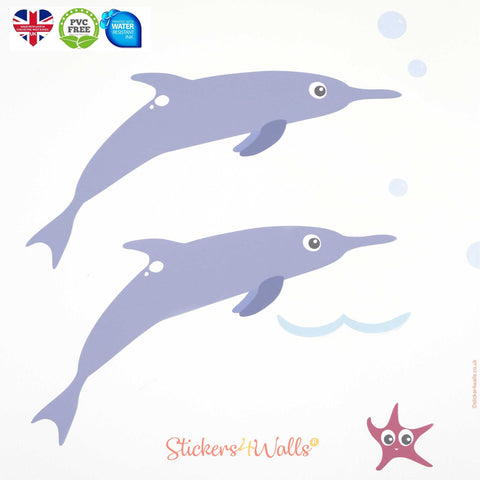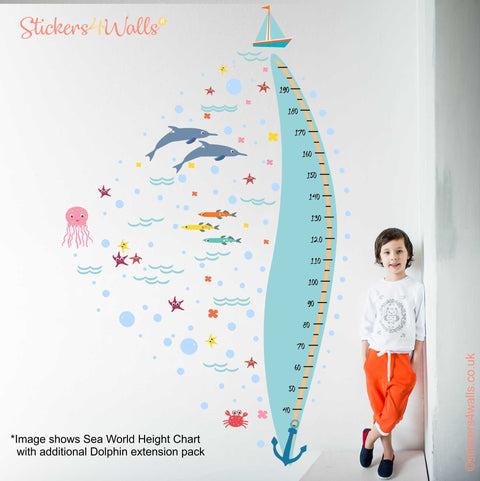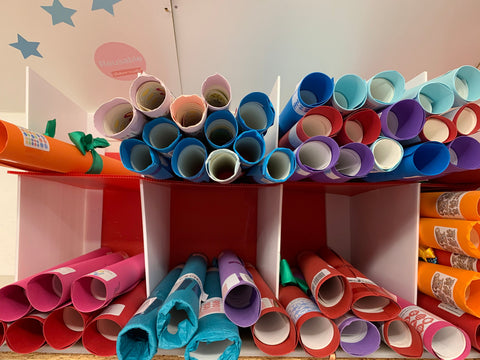 Stickers4Walls
Dolphin Fabric Wall Stickers Extension Pack - Reusable
Designed as an addition to our lovely Sea World height chart the beautiful bright designs work on their own or in addition to the original height chart. Including dolphins, fish, starfish, jellyfish, and a happy crab, along with multiple bubbles and waves ideal to create any under the sea themed room.
The vibrant colours can brighten any wall as well as providing stimulation for little ones. Each item is an individual sticker, which can be placed to suit your space, they are also reusable and re-positionable, if you move or would like to change the position of your wall decal simply peel off and re-stick! Perfect!
Pack Includes :
2 x Dolphins [36cm]
3 x Fish [19cm]
7 x Starfish [2 x medium starfish 6.5cm / 5 x small starfish 5.5cm]
1 x Jellyfish [20cm]
1 x Crab [12.5cm]
9 x Wave [5x large waves 17.5 / 4x medium waves 12cm]
57 x Bubbles [2x Large bubbles 7.5cm / 7x medium bubbles 4cm / 13x small bubbles 2.5cm / 35x extra small bubbles 1.5cm]
See our original Sea World Height Chart on a separate listing. 
Our Sea World illustrations are designed to tie in perfectly with our Kids World Range, including our popular Kids World Map, making it even easier to create a match theme though out your room or home. FabriStick® is self adhesive making them easy to apply, simply remove the back sheet and stick away. Happy decorating!
Our stickers are:
100% soft woven polyester and free from PVC. we also print using eco-friendly water-resistant ink make these ideal for use in children's rooms and extending the life span of the product. You can reposition them many times over, simply peel off and re-stick! Happy Decorating!
Designed, printed and hand finished in our workshop in Chichester, West Sussex, UK.
*Helpful hint: Please be careful about newly painted walls; most take at least 30 days to cure fully, please wait before applying the sticker if you have been painting or they might not adhere well and could damage the paintwork. Our fabric stickers are so simple to apply. Just peel them off the backing sheet and off you go! Please make sure that wherever you stick them, it is free from dirt and grease (wipe clean if required) and that it is dry. To note adhesion is not as effective on surfaces painted in 'washable paints' we would recommend sticking to surfaces painted in a standard emulsion for best adhesion.