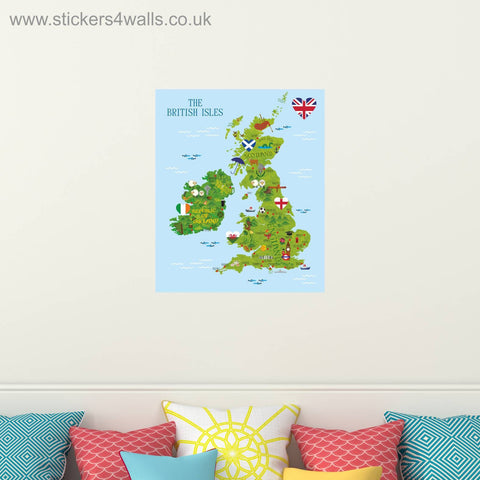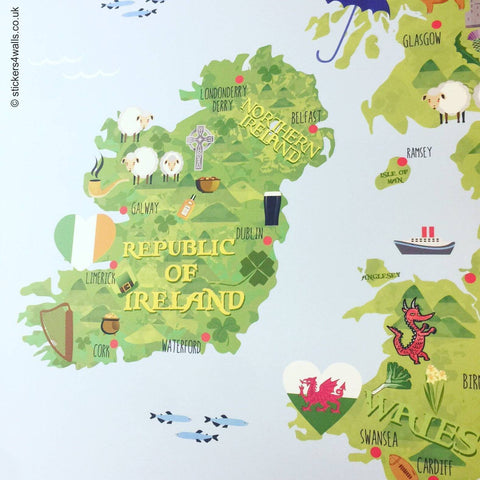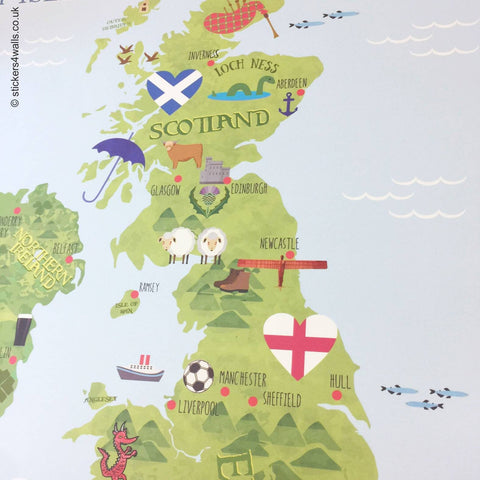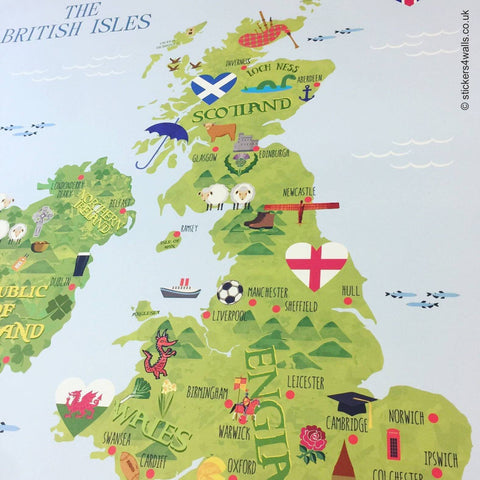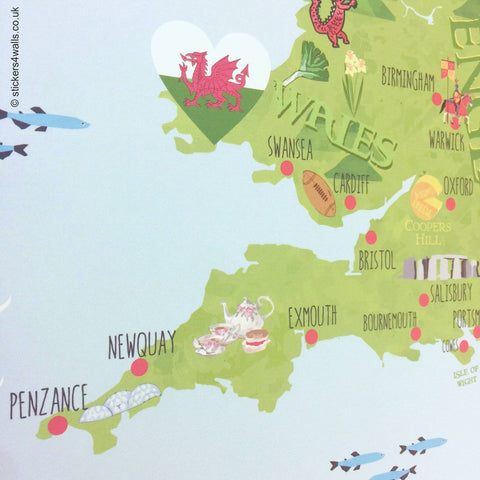 Stickers4Walls
British Map Fabric Wall Sticker - Reusable
A beautifully illustrated map of the British Isles wall sticker. This map has the names of the countries within Great Britain subtly in the background, and has lots of small illustrations of landmarks, animals and features of different areas of the UK.
There are highland cows, thistles, Nessie and castles in Scotland. Knights, roses, Big Ben and Stonehenge in England. Dragons, mountains and daffodils in Wales and Guinness, shamrocks, harps and pots of gold in Ireland, to name but a few! There are four flags representing the countries together with the UK flag at the top. All our maps come as one piece, so you don't need to worry about lining up separate pieces. This map is available in 3 standard sizes, do please contact us if you would like a different size and we will try to help.
Our fabric wall stickers are really easy to apply. Simply peel off the backing sheet and stick it on the wall! We recommend starting centrally and smoothing out towards the edges. If you decide to go for the really big world map wall sticker, you may need an extra pair of hands to stick it up just because it is so large, if it twists or sticks on itself while you are putting it up, don't panic! Our Fabristick® wall sticker material is so tough you can simple unstick it from itself and it won't be damaged, and then just smooth it on the wall. Brilliant!
Our stickers are:
100% soft woven polyester and free from PVC. we also print using eco-friendly water-resistant ink make these ideal for use in children's rooms and extending the life span of the product. You can reposition them many times over, simply peel off and re-stick! Happy Decorating!
Designed, printed and hand finished in our workshop in Chichester, West Sussex, UK.
*Helpful hint: Please be careful about newly painted walls; most take at least 30 days to cure fully, please wait before applying the sticker if you have been painting or they might not adhere well and could damage the paintwork. Our fabric stickers are so simple to apply. Just peel them off the backing sheet and off you go! Please make sure that wherever you stick them, it is free from dirt and grease (wipe clean if required) and that it is dry. To note adhesion is not as effective on surfaces painted in 'washable paints' we would recommend sticking to surfaces painted in a standard emulsion for best adhesion.