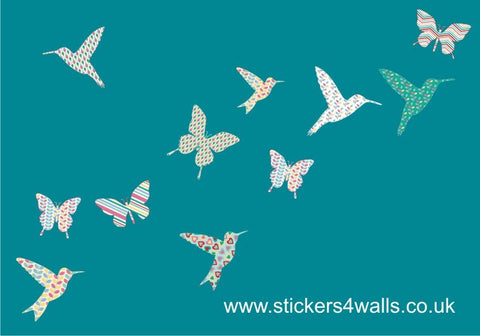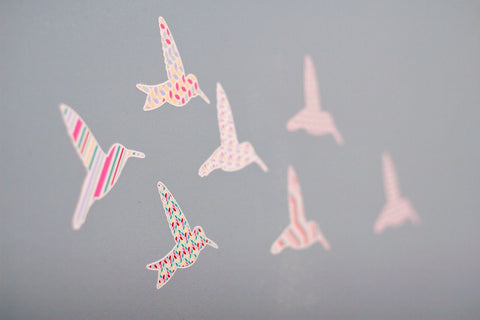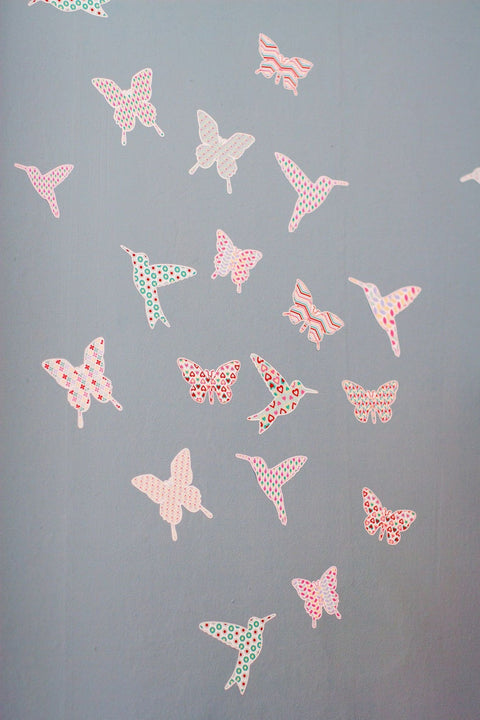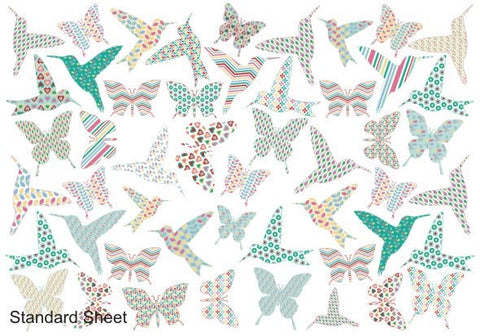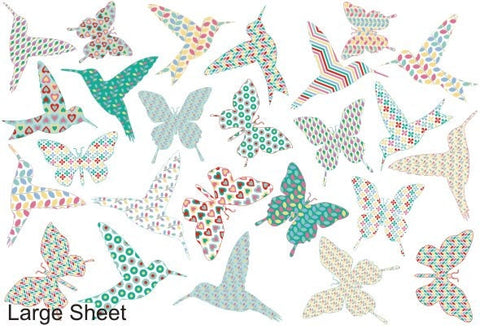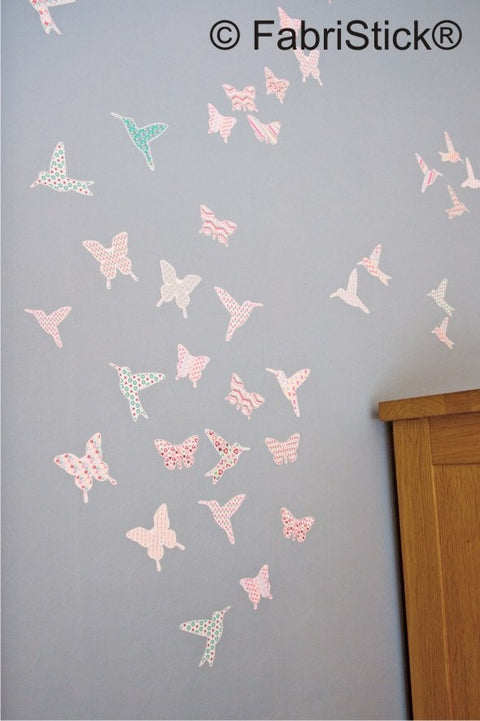 Stickers4Walls
Hummingbird Fabric Wall Stickers
A set of hummingbird and butterfly wall stickers that are repositionable and reusable. Available in two sheet sizes, standard and large. These stunning bird and butterfly wall decals come in fresh, pastel and bright colours and are a great way to brighten up your walls. Perfectly on trend, these fabric wall stickers are modern with a retro twist, incorporating striking patterns and colours that will give your home an instant make-over. Great for a little one's bedroom or playroom.

These beautiful wall stickers are available in two size options, a large sheet (730mm x 500mm) and a smaller sheet (500mm x 350mm). Please see below for more information.
What are fabric wall stickers? Our fabric decals are made from superior quality adhesive fabric, which we print with our designs. Fabric wall stickers are super tough, durable, and easy to use. You can apply your wall stickers to walls, cupboards, glass - pretty much any smooth or even bumpy surface. They can be repositioned time after time without losing stick, without causing surface damage. These high quality wall stickers are waterproof, do not tear, and have a tactile, smooth, matt fabric texture. We absolutely love them, and we hope you will too! We hand finish and pack all our products. We design and make all our wall stickers in Chichester, UK.
They are really simple to apply. Just peel them off the backing sheet and off you go! Please just first make sure that wherever you stick them, it is free from dirt and grease (wipe clean if required) and that it is dry.
Sheet Dimensions
50cm x 35cm (standard) or 73cm x 50cm (large)
Object Dimensions (standard)
50cm x 35cm sheet
Large Hummingbirds 85mm x 65mm
Small Hummingbirds 55mm x 44mm
Large Butterflies 60mm x 60mm
Small Butterflies 42mm x 42mm
73cm x 50cm sheet (large)
Large Hummingbirds 168mm x 136mm
Small Hummingbirds 138mm x 112mm
Large Butterflies 129mm x 129mm
Small Butterflies 88mm x 82mm
Quantity per sheet (standard)
50cm x 35cm sheet
25 x Butterflies
25 x Hummingbirds
73cm x 50cm sheet (large)
12 x Butterflies
13 x Hummingbirds
Helpful hint: Please be careful about newly painted walls; most take at least 30 days to cure fully, so please wait before applying the sticker if you have been painting or they might not adhere well and could damage the paintwork.
Our stickers are:
100% polyester and PVC free
Self adhesive, and will stick to pretty much any surface - walls, radiators, wardrobes, you name it!
Printed with water resistant ink
You can reposition them many times over, simply peel off and re-stick!
Please note we are based in the UK - please see our shipping policies for an estimate of shipping time. All our products are designed and made in our workshop in Chichester, West Sussex UK.