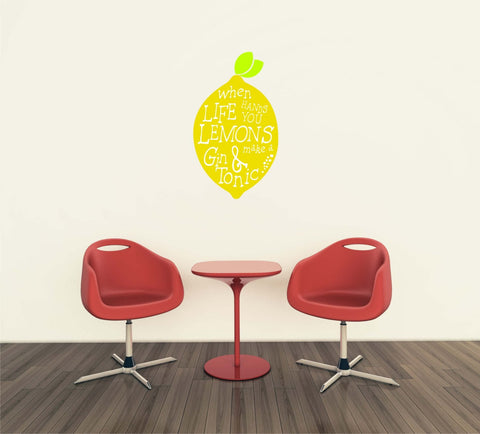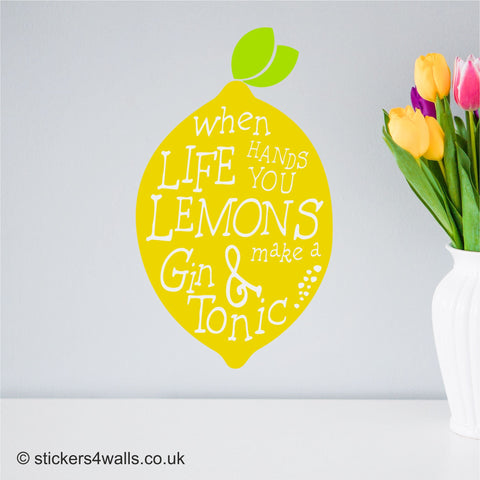 Stickers4Walls
When Life Hands You Lemons, Gin & Tonic Wall Sticker,
When life hands you lemons, make a gin & tonic wall sticker! The perfect wall sticker for the sophisticated G&T drinker out there. Brighten up your kitchen, dining room or (if you are lucky enough to have one!) bar area? It could even be used outside to decorate your exterior living areas, it just needs a smooth surface. All our vinyls are super-tough and can withstand anything the great British weather can throw at us! This graphic comes in lemon yellow with green leaves and white writing. Vinyl wall art can brighten up any home, and is particularly suitable for rented properties where damage to the wall caused by picture hangings is best avoided.
This 'life hands you lemons' wall sticker comes in two size options, please select which you would like from the drop down menu:
Small 29x50cm: £14.99
Large 50x87cm: £29.99
Our wall stickers are very easy to apply, and there is no need for nails, so the transformation to your home interior is virtually instant. As well as the ranges on sale, we offer a bespoke service, if there is a particular image, or a poem or saying that is special to you, please do get in touch for a quote.
Designed, printed and hand finished in our workshop in Chichester, West Sussex, UK.
*Wall stickers can be removed by the application of gentle heat, they generally leave no damage on removal, we do advise they are not applied to newly painted walls please let your wall cure, this usually will take approx 6 weeks. Sadly, vinyl wall stickers cannot be re-used once they have been removed.