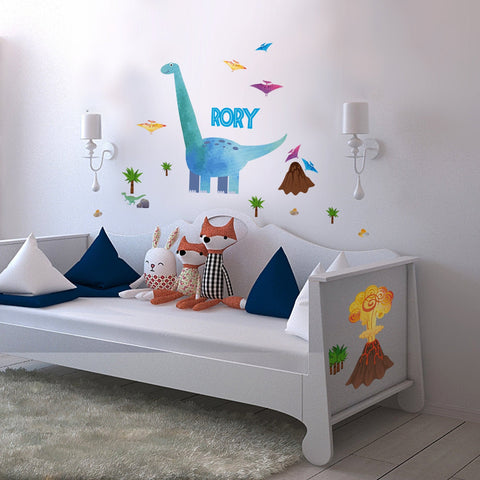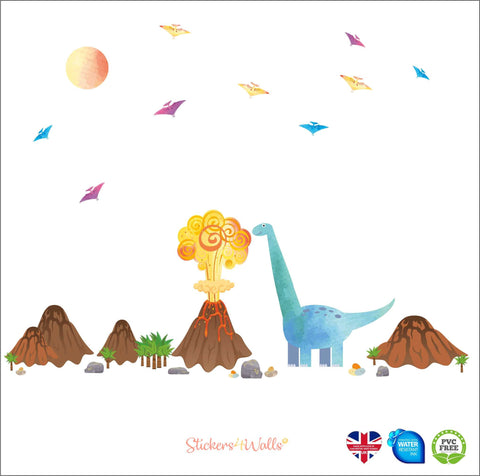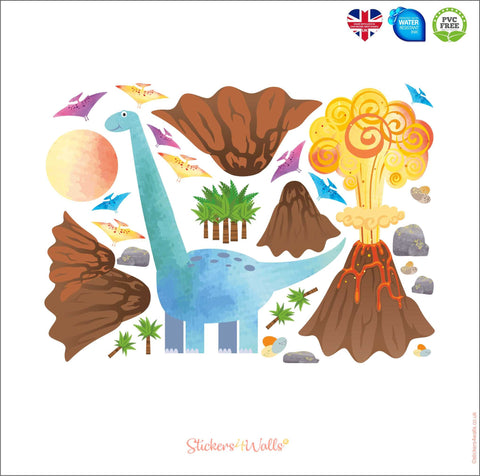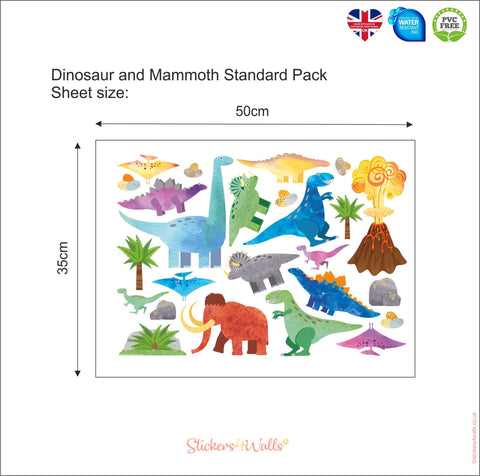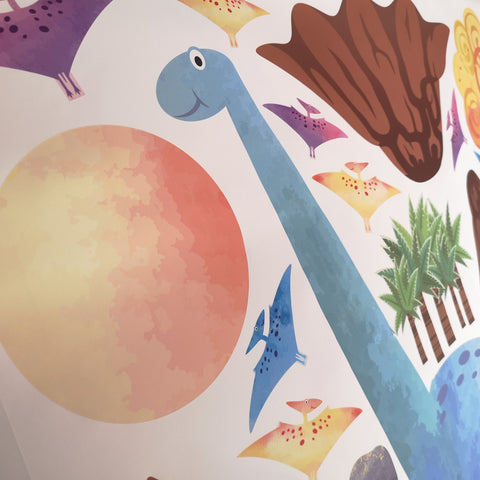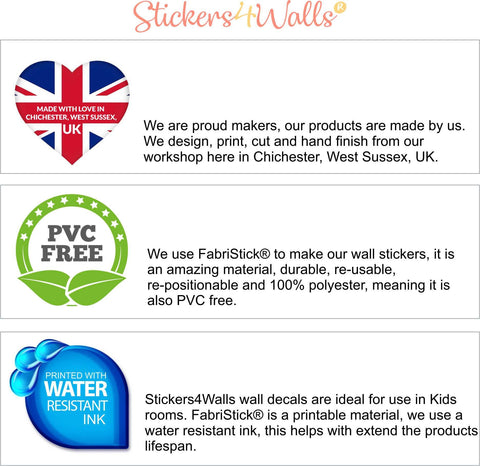 Stickers4Walls
Dinosaur And Volcano Wall Sticker Mega Pack
A stunning set of dino wall stickers, from our amazing Dinosaur collection featuring a monster-sized main dinosaur and volcano plus extra mountains. Add the burning sun and additional pterodactyl and create your own Dinosaur themed room. Our wall stickers are designed and printed by us on adhesive material using water-resistant ink, perfect for any kid's bedroom or playroom. The material is 100% polyester and free from PVC. Our stickers are reusable and repositionable, giving you the flexibility to move and change the layout to make your custom room design.
Sheet size 72cm x 100cm
Dino & Vol Mega Pack includes:
1x Large Dino: 60x 62cm
1x Large Volcano:35 x 69cm
4 Additional Mountains [1x double and 2x single / 11 x 19cm - 39 x 22cm]
4 Single Trees: 81 x 63 cm
Group of Trees:18 x 16cm
1x Burning Sun: 10 x 10cm
9x Pterodactyl: 7x6cm – 14 x8cm
4x Boulders: 5x 3cm – 9x8cm
4x Sets of Eggs: 4x3cm – 6.5x5cm
Additional wall stickers are available in this range, our standard 'dinosaur and woolly mammoth' set has additional dinosaurs; include stylised versions of a T-Rex, Brachiosaurus, Styracosaurus, Pteranodon, and more! But both packs together for £62.98 and save £10.00 on the original total price of £72.98; please select the 'Both Packs' option.
It is important to make sure that the surface dry and is free from dirt and grease. A quick and fun way to brighten up walls and furniture.

Helpful hint: Please be careful about newly painted walls; most take at least 30 days to cure fully, so please wait before applying the sticker if you have been painting or they might not adhere well and could damage the paintwork.

Please note that we are based in the UK. Please see our shipping policies for an estimate of shipping time. All our products are designed and made in our workshop in Chichester, West Sussex UK.