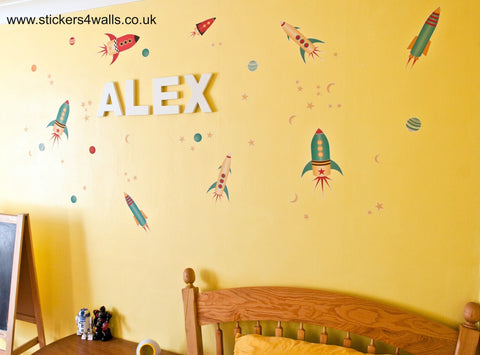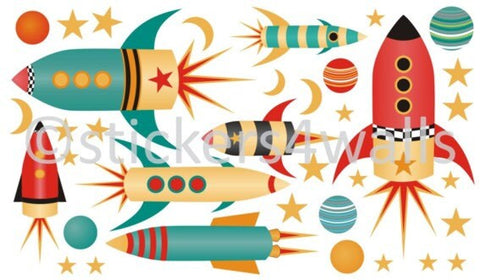 Stickers4Walls
Rocket And Planet Fabric Wall Stickers - Reusable
A set of colourful rocket and planet wall stickers, designed and hand-finished in the UK. Fire up your imagination with these brilliant fabric rockets and planet wall decals. Perfect for the little (or even grown-up!) astronaut in the house, there are 7 rockets, 6 planets, and lots of stars and moons. The largest rocket is a whopping 32cm tall, out of this world! Our wall stickers are repositionable, reusable rocket wall stickers are a great way to quickly add a space and rocket theme to a room. In fantastic bright colours, you can apply them to walls, cupboards, mirrors - any smooth or even bumpy surface. They can be repositioned time after time without losing stick, and without causing wall damage. We print using eco-friendly, water-resistant inks helping extend the life of the product and making them ideal for use in children's rooms. These are tough stickers, they do not tear, made from a soft woven fabric with a matt fabric. We absolutely love them, and we hope you will too!
You will find our fabric wall stickers are really easy to put up - peel them off the backing sheet and stick them on! We recommend keeping the backing sheet and should you even need you can carefully remove your stickers from their current wall, replace on the backing sheet and they are ready to use again in a new location. Perfect in rented accommodation, no nails, no mess.
Sheet Dimensions:
50cm x 35cm
Quantity per sheet:
7 rockets (Largest rocket 32cm by 18cm /Smallest rocket 18cm by 10cm )
19 stars (largest 5cm / smallest 3cm)
4 crescent moons (5cm x 3.5 cm)
6 planets (Smallest 4.6cm to largest 5.8cm diametre)
Looking to create a space-themed room, see our solar system https://www.etsy.com/uk/listing/600136887/space-wall-sticker-solar-system-wall available in a range of sizes from large to absolutely massive! Make an impact in any room, it is stunning.
Our stickers are:
100% polyester and PVC free and we print using water-resistant ink, making these a great choice for nurseries and kids' rooms.
Designed, cut and hand finished in our workshop in West Sussex, UK.
**Helpful hint: Please be careful about newly painted walls; most take at least 30 days to cure fully, so please wait before applying the sticker if you have been painting or they might not adhere well and could damage the paintwork. Our fabric stickers are so simple to apply. Just peel them off the backing sheet and off you go! Please just first make sure that wherever you stick them, it is free from dirt and grease (wipe clean if required) and that it is dry. To note adhesion is not as effective on surfaces painted in 'washable paints' we would recommend sticking to surfaces painted in a standard emulsion for best adhesion.