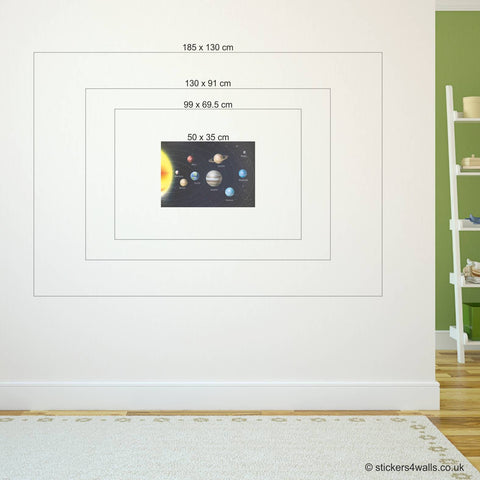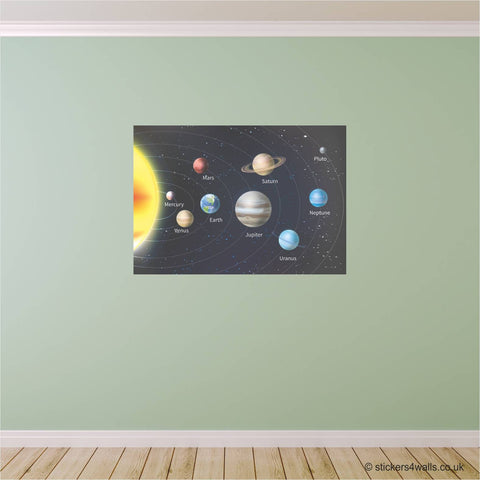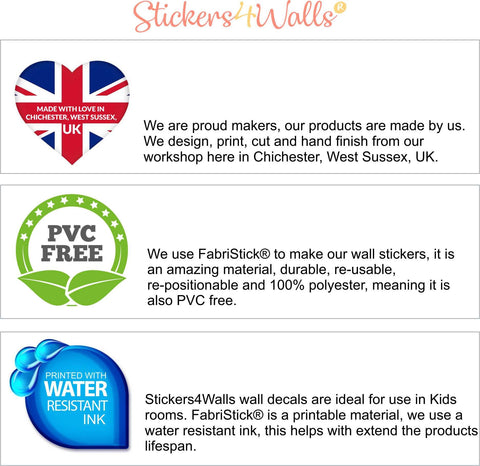 Stickers4Walls
Solar System Planetary Fabric Wall Sticker - Reusable
A stunning solar system wall sticker made from our high quality fabric wall sticker material, FabriStick®. This planetary wall decal features the sun and the planets of our solar system, perfect for the budding astronaut or as an educational piece of art for a child's room. Ideal for getting ready to go back to school. The planets are arranged in order away from the sun, with circular orbit lines. The sun, Mercury, Venus, Earth, Mars, Jupiter, Saturn, Uranus, Neptune and Pluto are all there, on a dark starry sky background.
We offer this wall sticker in 4 different sizes.
Please select which size you would like from the drop-down menu when you order - from small and 'easy to apply' 50 cm wide to a stunning 185 cm wide (which might need two pairs of hands!), as shown in the photos.
Our fabric wall stickers are really easy to apply. Simply peel off the backing sheet and stick it on the wall! We recommend starting centrally and smoothing out towards the edges. If you decide to go for the really big world map wall sticker, you may need an extra pair of hands to stick it up just because it is so large. But if it twists or sticks on itself while you are putting it up, don't panic! Our Fabristick® wall sticker material is so tough you can simple unstick it from itself and it won't be damaged, and then smooth it on the wall. Brilliant!
Our stickers are: 100% polyester and PVC free and we print using water resistant ink, making these a great choice for nurseries and kids' rooms. The wall sticker is smooth to the touch with a matt finish.
Designed, painted and hand finished in our workshop in West Sussex, UK.
*Helpful hint: Please be careful about newly painted walls; most take at least 30 days to cure fully, so please wait before applying the sticker if you have been painting or they might not adhere well and could damage the paintwork. Our fabric stickers are so simple to apply. Just peel them off the backing sheet and off you go! Please just first make sure that wherever you stick them, it is free from dirt and grease (wipe clean if required) and that it is dry. To note adhesion is not as effective on surfaces painted in 'washable paints' we would recommend sticking to surfaces painted in a standard emulsion for best adhesion.
Please note we are based in the UK - please see our shipping policies for estimated shipping times. All our products are designed and made in our workshop in Chichester, West Sussex UK.