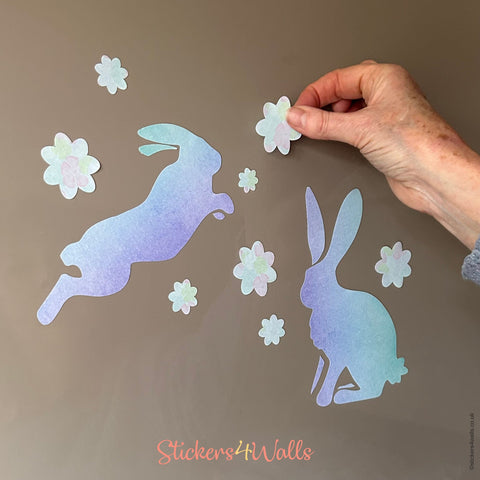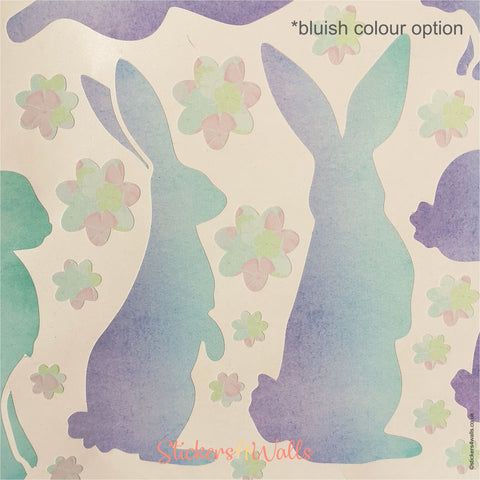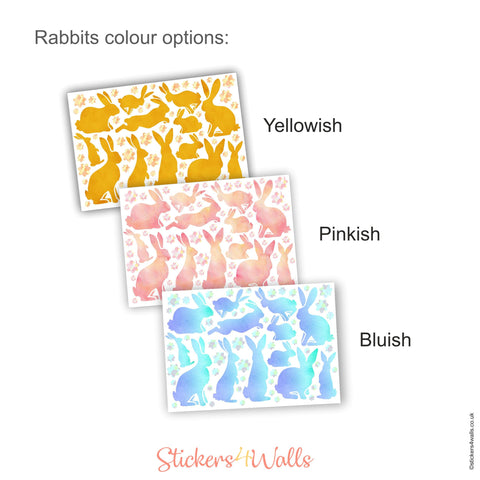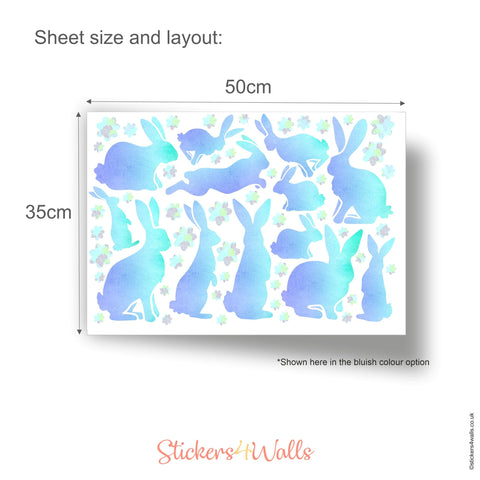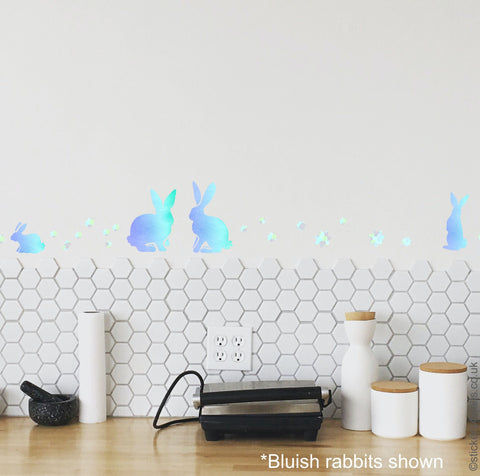 Stickers4Walls
Rabbit & Flowers Fabric Wall Stickers - Reusable
A set of 13 Rabbit Fabric Wall Stickers with an additional 47 Flowers. Ideal to add colours to your walls with these rabbit and flower wall graphics. These trending colours add a colour splash without getting the paintbrush out, we offer three different colour sets too, take your pick. Each has a tonal fade from a darker tone to lighter and back again, options include: Yellowish [made of yellows and oranges], Pinkish [Including pinks and peaches] and Bluish [blues through turquoise] they are the perfect way to offer a quick, easy and elegant solution to updating your home.
The pack includes 13 various-sized Rabbits and 47 various size flowers so that you can create a stunning and unique design on your walls, cupboards or any other surface you wish. Split the pack into several smaller designs according to the space you want to fill, or have one larger, dramatic freeze - it's up to you! Our FabriStick® wall stickers are repositionable and removable; you can change the designs you create and reapply without worry.
Sheet size:
50cm x 35cm
Including:
13 Rabbits [From the largest at 11cm x 20cm to the smallest at 8cm x 7cm]
47 Flowers [From the largest at 5cm x 5cm to the smallest at 1.5cm x 1.5cm]
Select the colour option you would like from the dropdown menu on ordering.
We print on FabriStick® a soft-touch woven material that is durable and self-adhesive, made from 100% polyester fabric free from PVC. We use eco-friendly UV-protected inks which are also water-resistant. Our wall stickers are reusable and repositionable without damaging your wall, an easy way to add design elements to any wall.

Our stickers are made from a soft woven polyester, free from PVC. We print using eco-friendly water-resistant ink, extending the life span of the product.
Designed, printed, and hand-finished in our workshop in Chichester, West Sussex, UK.
*Helpful hint: Please be careful about newly painted walls; most take at least 30 days to cure fully, please wait before applying the sticker if you have been painting or they might not adhere well and could damage the paintwork. Our fabric stickers are so simple to apply. Just peel them off the backing sheet and off you go! Please just first make sure that wherever you stick them, it is free from dirt and grease (wipe clean if required) and that it is dry. To note adhesion is not as effective on surfaces painted in 'washable paints' we would recommend sticking to surfaces painted in a standard emulsion for best adhesion.