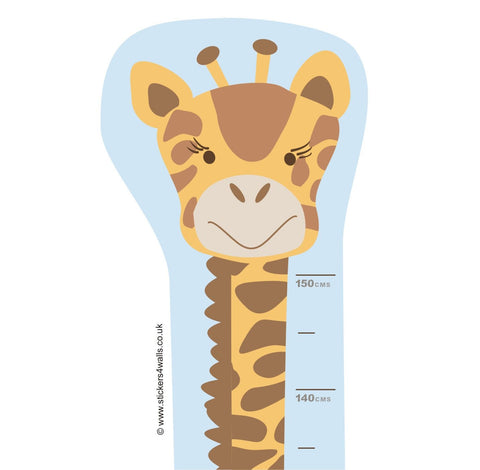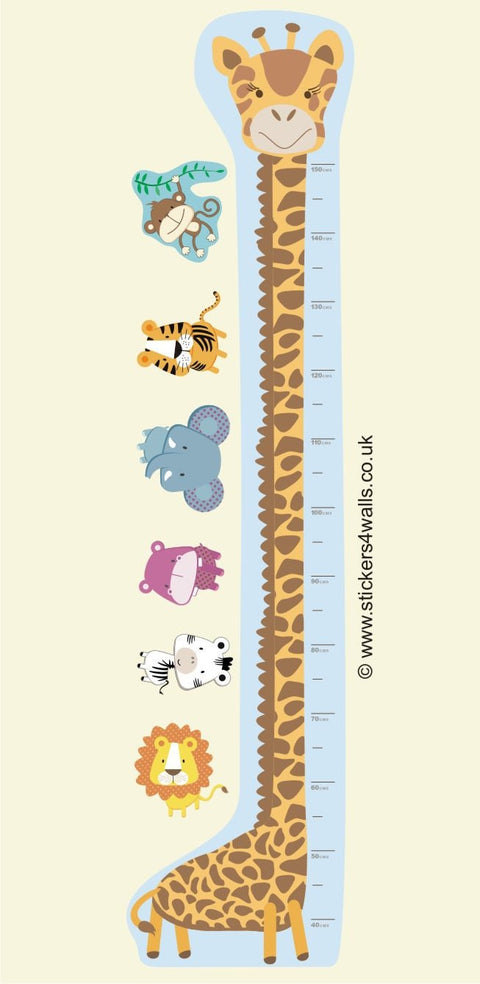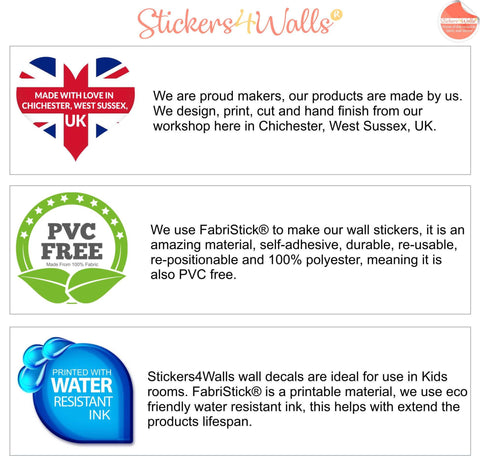 Stickers4Walls
Giraffe Height Chart Fabric Wall Sticker Reusable
An adorable, high quality giraffe height chart wall sticker that can be positioned on a wall, cupboard or door. Perfect for a child's room, nursery or playroom. The pack comes complete with the height chart and a selection of other endearing safari animals to engage your children - a lion, tiger, zebra, monkey, hippo and even an elephant.
The measurement on the giraffe starts at 40 cms and goes up to 150cms, allowing you to place it on the wall above a skirting board if you have one. Align the wall sticker using a tape measure or ruler, starting at 40cms off the floor. The unique soft woven texture of our FabriStick® wall stickers will allow you to write on the chart itself, make a note of your child's exact height and name if you wish to – no need to write on your walls or doorframe anymore! Just make sure that your little one doesn't cheat and stand on tiptoes…
Easy to apply, simply peel off the backing sheet and go - don't worry about crinkles or bubbles as they can easily be smoothed out - even if the wall sticker sticks back on itself you can gently pull it apart and unstick it! A quick and engaging way to add a splash of colour and fun to a room. This giraffe height chart also compliments our safari set, that includes a scene with tigers under a tree, giraffes, lions, elephants, hippos, monkeys and zebras together with vines and foliage. They are reusable and repositionable, you can peel them off the wall and apply elsewhere as required. Use them on walls, cupboards, glass, in fact most smooth or even textured surfaces.
Included:
1 x large giraffe height chart
1 x hippo
1 x monkey
1 x elephant
1 x tiger
1 x lion
1 x zebra
Our popular 'Kids Safari Range' also includes an additional 'Safari Animal Wall Sticker Set' and our 'A4 Safari Extention pack'. Buy the 'Safari Giraffe Height Chart' together with the 'Safari Animal Sticker Set' and 'Safari A4 Extension Pack' together and save £15.00, making it even easier to create a match theme though out your room or home. Please select the option you would to order from the drop down menu.
Our stickers are:
100% soft woven polyester and free from PVC. we also print using eco-friendly water-resistant ink make these ideal for use in children's rooms and extending the life span of the product. You can reposition them many times over, simply peel off and re-stick! Happy Decorating!
Designed, printed and hand finished in our workshop in Chichester, West Sussex, UK.
*Helpful hint: Please be careful about newly painted walls; most take at least 30 days to cure fully, please wait before applying the sticker if you have been painting or they might not adhere well and could damage the paintwork. Our fabric stickers are so simple to apply. Just peel them off the backing sheet and off you go! Please make sure that wherever you stick them, it is free from dirt and grease (wipe clean if required) and that it is dry. To note adhesion is not as effective on surfaces painted in 'washable paints' we would recommend sticking to surfaces painted in a standard emulsion for best adhesion.