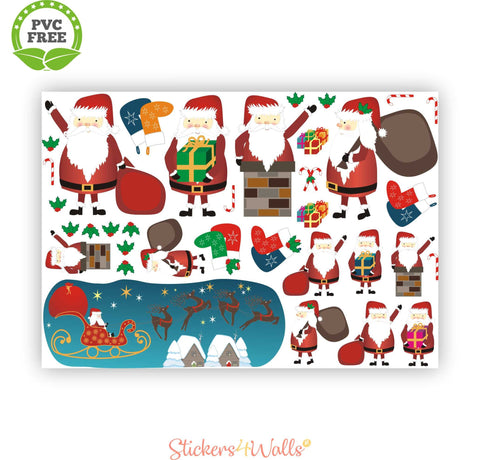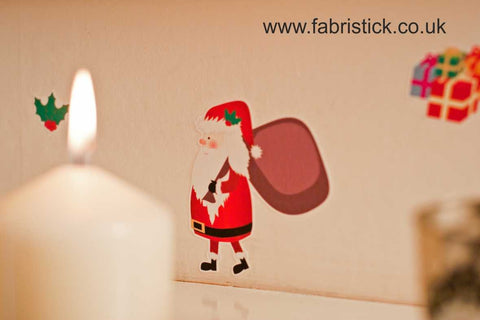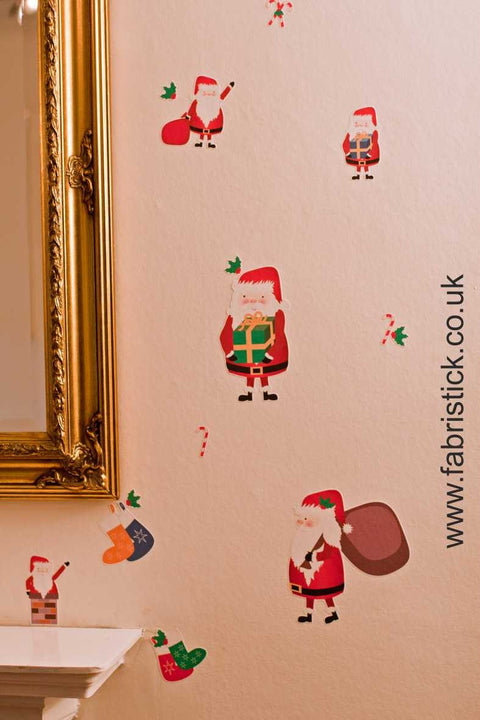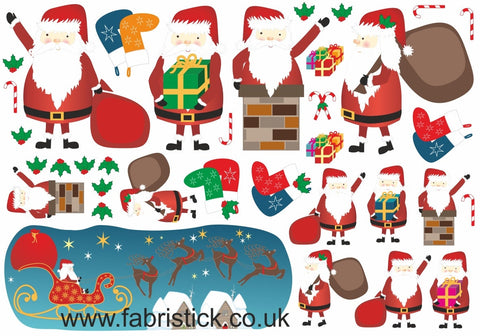 Stickers4Walls
Father Christmas Kids Fabric Wall Stickers - Reusable
A pack of removable, reusable Father Christmas wall stickers, tough durable fabric stickers perfect for children to decorate their room. Christmas wouldn't be Christmas without the big man in red – this set of Santa fabric wall stickers comes with 12 Santas to decorate your home - climbing up the chimney, with his sack of gifts or holding a present. Add some festive cheer to your home! The set also has a large scene of Santa in his sleigh flying over rooftops pulled by his reindeer (can you spot Rudolph?). Add in some candy canes, presents, holly sprigs, and Christmas stockings and you have all the ingredients for adding a touch of festive magic to your walls.
Use on walls, cupboards or any other surface you wish! After Christmas, simple peel off and return them to the backing sheet to re-use next year! These are great because you can let your child loose with decorating their room and no need to worry about sharp or spiky decorations.
Our FabriStick® wall graphics are re-positionable and removable, letting you can change the designs you create as and when you like. You can apply your stickers to walls, cupboards, glass - pretty much any smooth or even bumpy surface. They can be re-positioned time after time without losing stick, without damaging walls. These stickers are lightweight, water-resistant, they do not tear, and We absolutely love them, and we hope you will too!
Sheet size:
35cm x 50cm
Including:
4x Large Santa [height 15cm]
8x Small Santa [height 8cm]
4x Christmas Stockings [height 7cm]
1x Sleigh Scene [30cm x 10cm]
2x Pile of Presents [3cm x 4cm]
6x Candy Canes [height 3cm]l
10x Holly Sprigs [2cmx 2cm]
We also have a set of snowman wall stickers, please see separate listing.
Our stickers are:
100% soft woven polyester and free from PVC. We also print using eco-friendly water-resistant ink making these ideal for use in children's rooms and extending the life span of the product. You can reposition them many times over, simply peel off and re-stick! Happy Decorating!
Designed, printed and hand finished in our workshop in Chichester, West Sussex, UK.
*Helpful hint: Please be careful about newly painted walls; most take at least 30 days to cure fully, please wait before applying the sticker if you have been painting or they might not adhere well and could damage the paintwork. Our fabric stickers are so simple to apply. Just peel them off the backing sheet and off you go! Please make sure that wherever you stick them, it is free from dirt and grease (wipe clean if required) and that it is dry. To note adhesion is not as effective on surfaces painted in 'washable paints' we would recommend sticking to surfaces painted in a standard emulsion for best adhesion.