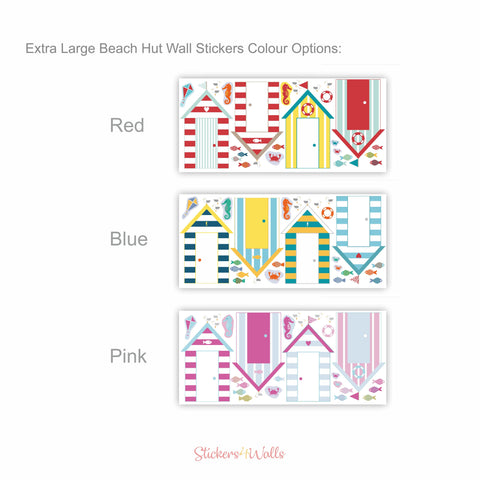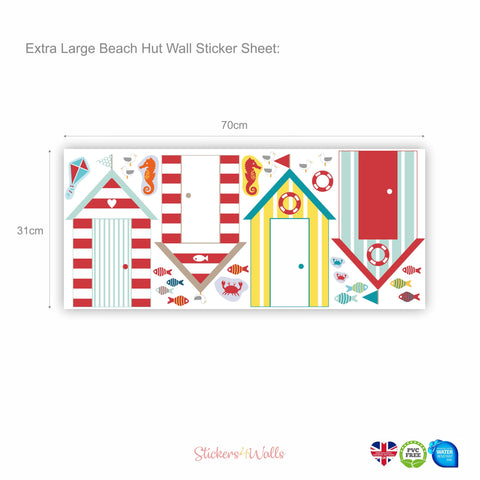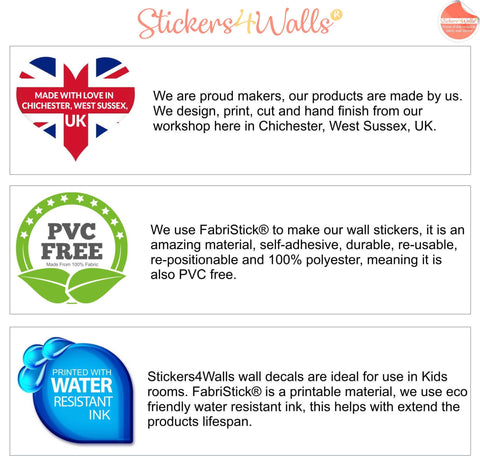 Stickers4Walls
Beach Hut & Seaside, Giant Size, Fabric Wall Stickers - Reusable
A larger set of four colourful seaside beach hut wall stickers. Available in the same colour ranges as our standard sized beach huts perfect for any room, fabulous for children and adults alike. Bring the feel of the beach and seaside inside with these nautical themed wall stickers. This set 4 large beach huts with accompanying fish, seagulls, crabs, seahorses, a kite and lifebuoy. Oh we do like to be beside the seaside!
Bring a little summer inside your home. Just peel and stick with this reusable fabric set of seaside wall stickers, the perfect way to quickly and easily bring some fun and colour to plain walls that need livening up. Simply peel off the backing and apply to walls, wardrobes or any smooth or even textured surface. Available in your choice of three coordinated colour collections, Red, Blue or Pink. Please select the cololur you would like on ordering.
Our FabriStick® wall stickers are 100% polyester and PVC free, in addition, we print with eco-friendly, water-resistant ink, making these stickers ideal for children's nurseries and playrooms. They are self-adhesive and repositionable, you can move them around until you find your ideal position. A really quick and fun way to brighten up your home interior without the use of nails or glue.
Sheet size: 70cm x 31cm
Item sizes:
4 x Beach Huts: 18cm x 29cm
2 x Seahorses: 4cm x 8cm
10 x Fish: 4cm x 2cm
1 x Lifebuoy: 4cm x 4cm
3 x Crabs: 2 x Small 3cm x 2cm / Large 6.5cm x 4cm
1 x Kite: 4cm x 9cm
6 x Seagulls: 2.5cm x 2cm
We design, print, cut and hand finish all our products here in our workshop in Chichester, West Sussex, UK
*Helpful hint: Please be careful about newly painted walls; most take at least 30 days to cure fully, so please wait before applying the sticker if you have been painting or they might not adhere well and could damage the paintwork. Our fabric stickers are so simple to apply. Just peel them off the backing sheet and off you go! Please just first make sure that wherever you stick them, it is free from dirt and grease (wipe clean if required) and that it is dry. To note adhesion is not as effective on surfaces painted in 'washable paints' we would recommend sticking to surfaces painted in a standard emulsion for best adhesion.