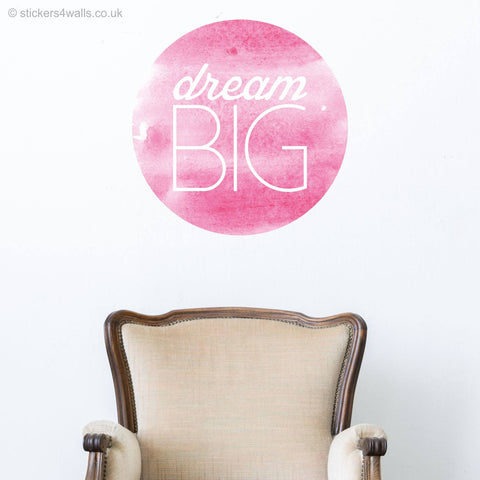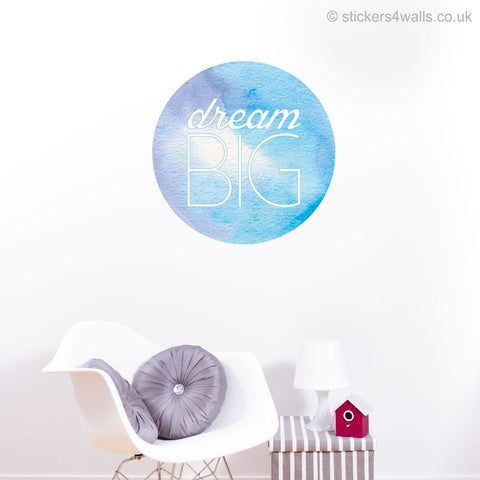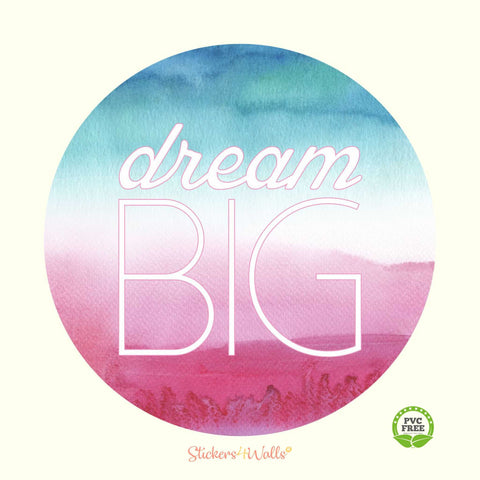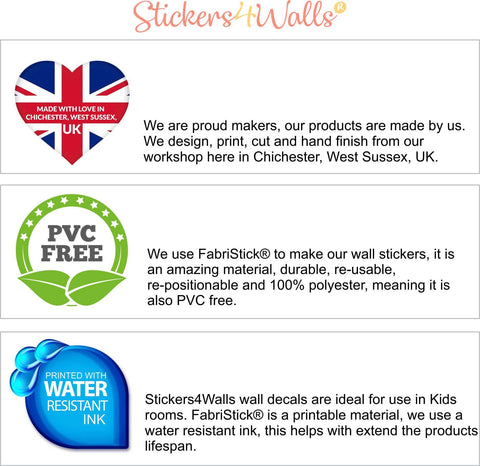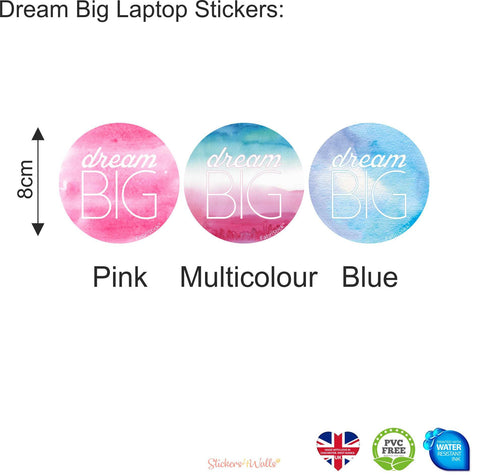 Stickers4Walls
Dream Big Wall Sticker - Reusable
A beautiful inspirational wall sticker with a watercolour background and the words 'dream big' on it. This fabric wall sticker would suit a child or teen's room, or would be equally good in a small business or home office. The sticker comes in a choice of sizes, Small 50cm x50 cms, Medium 70cm x70cms, Large 100cm x 100cm, and Extra Large 130cm x 130cm. It also comes in a choice of colours - pink, blue or rainbow. Please select the options you would like from the drop down menu.
This wall sticker is designed, printed and hand finished in our workshop in Chichester, West Sussex. It is made from high quality fabric wall sticker material, Fabristick® - it is tactile, it doesn't tear and is wipe-clean. Simply peel it off the backing sheet and apply to your wall. Much easier to apply than traditional vinyl wall stickers. And it can be peeled back off the wall and moved if required, so if you move rooms around or move house or office just take it with you!
Also available in a beautiful looking laptop sticker, same fresh colours in a 8cm circle. Please see separate listing for further details.
While we make every effort to make sure that colours are represented accurately on screen, there may be a small variation in colour depending on your screen settings.
Our stickers are:
100% soft woven polyester and free from PVC. we also print using eco-friendly water-resistant ink make these ideal for use in children's rooms and extending the life span of the product. You can reposition them many times over, simply peel off and re-stick! Happy Decorating!
Designed, printed and hand finished in our workshop in Chichester, West Sussex, UK.
*Helpful hint: Please be careful about newly painted walls; most take at least 30 days to cure fully, please wait before applying the sticker if you have been painting or they might not adhere well and could damage the paintwork. Our fabric stickers are so simple to apply. Just peel them off the backing sheet and off you go! Please make sure that wherever you stick them, it is free from dirt and grease (wipe clean if required) and that it is dry. To note adhesion is not as effective on surfaces painted in 'washable paints' we would recommend sticking to surfaces painted in a standard emulsion for best adhesion.