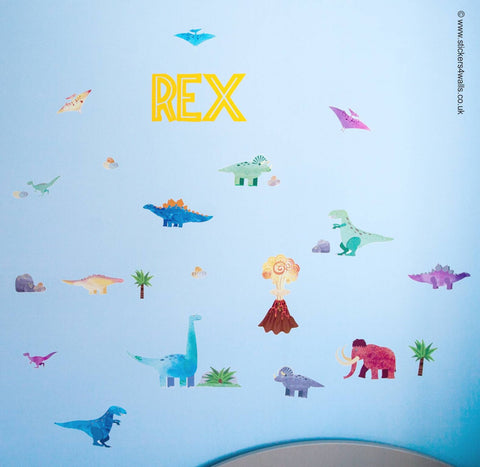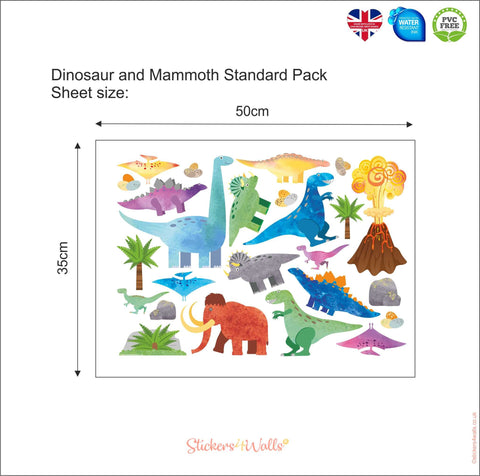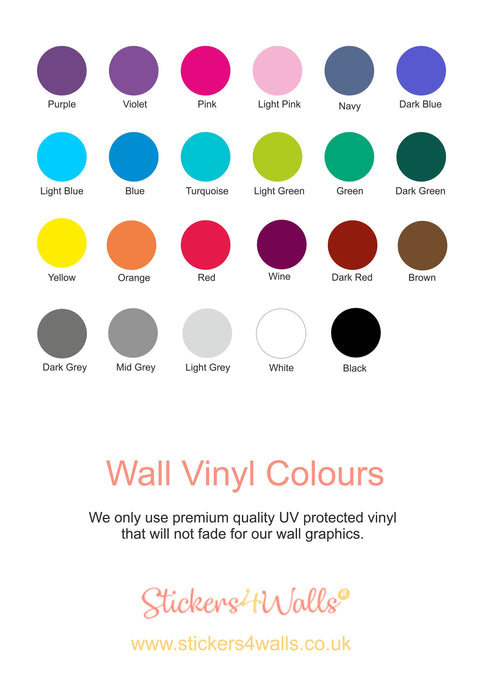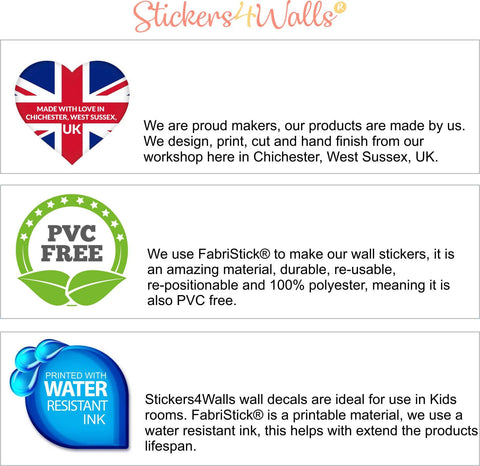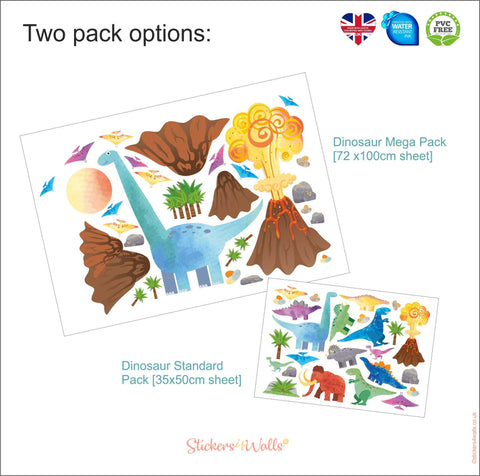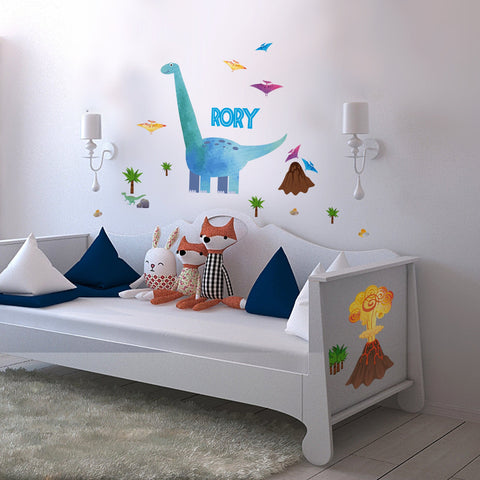 Stickers4Walls
Dinosaur And Mammoth Fabric Wall Stickers - Reusable
A set of high quality fabric wall stickers in a gorgeous dinosaur design, perfect for a child's nursery or bedroom. Looking for dinosaur wall stickers for kids? A gorgeous set of dinosaur wall stickers for dino-mad kids! This set of prehistoric wall stickers includes a T-rex, Brachiosaurus, Styracosaurus, Pteranodon, a Woolly Mammoth and a volcano together with a selection of rocks and plants. This pack of dinosaur wall decals would be a fun addition to any wall in a child's bedroom who is keen on dinosaurs or would complement a dinosaur-themed bedroom brilliantly.
You can choose personalised this set by adding in a child's name if required. Simply select the 'with Name' option from the drop-down menu, and please make sure you let us know which colour you would like from the colour chart image and the name required in the 'note to seller' at checkout. The name is in a Jurassic Park style font and will be 15 cm tall, with the length dimension varying according to the number of letters in the name.
The entire sheet measures 50cm x 35cm.
Sticker Quantities and Dimensions per sheet:
12 x Dinosaurs: Largest dinosaur 195mm x 190mm, Smallest dinosaur 90mm x 43mm
5 x Egg pile: 30mm x 40mm
1 x Volcano: 100mm x 200mm
1 x Woolly Mammoth: 150mm x 106mm
2 x Trees 76mm x 95mm
2 x Boulders
1 x Boulder & Plants
The dinosaur set of characters are very high quality wall stickers, unlike some cheaper imported wall decals. They are made from specialist adhesive polyester fabric that is printed with our designs, that can just be removed from the backing sheet and applied to walls, cupboards, glass, wallpaper – in fact, most smooth or textured surfaces. Our FabriStick® wall stickers are waterproof, have a smooth, matt fabric texture and do not tear. You can peel them off and move them around as often as you like. Please note that if you choose to add in a child's name, this will be provided in high quality matt vinyl and as such is not repositionable like the rest of the set.
We have extended the range to now include an extra large mega set of Dinosaur and Volcano wall stickers, helping you create an even larger display. please see separate listing.
It is important to make sure that the surface dry and is free from dirt and grease. All stickers are 100% polyester and are PVC-free. and we print using eco-friendly water resistant inks, helping extend the life span of the product and making them ideal for use in children's rooms. A really quick and fun way to brighten up walls and furniture.
**Helpful hint: Please be careful about newly painted walls; most take at least 30 days to cure fully, so please wait before applying the sticker if you have been painting or they might not adhere well and could damage the paintwork.
Please note that we are based in the UK. Please see our shipping policies for an estimate of shipping time. All our products are designed and made in our workshop in Chichester, West Sussex UK.