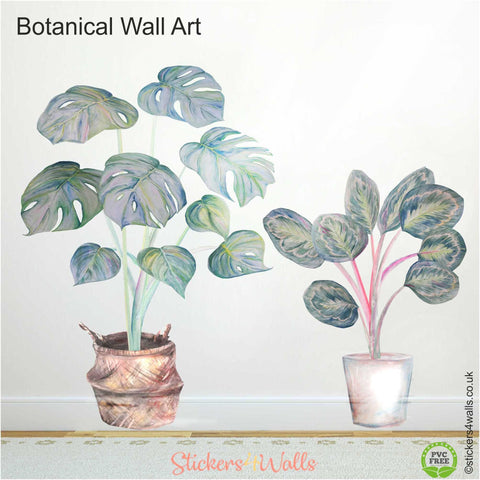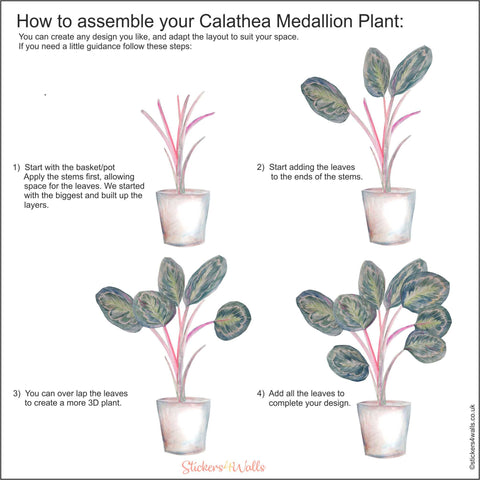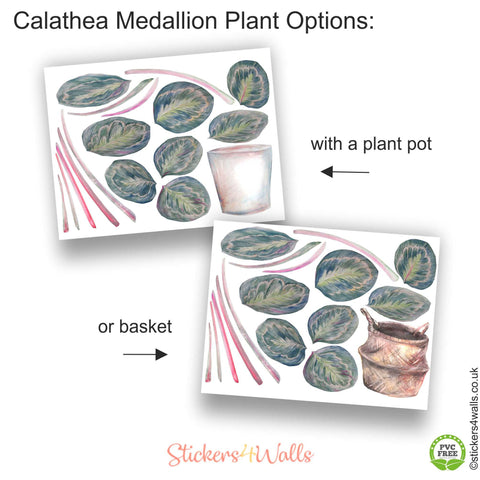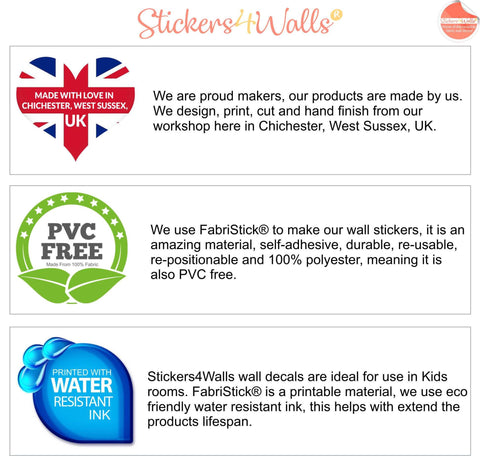 Stickers4Walls
Calathea Medallion Botanical Plant Wall Sticker - Reusable
In Addition to our watercolour botanical collection. Design your own botanical interior with our watercolour Calathea Medallion fabric wall stickers, in the same style as our Cheese Plant Wall Sticker both painted by our inhouse artist Abi.
Slightly smaller than the original cheese plant, the Calathea Medallion is a beautiful addition to any wall, create your very own layout quick and easily. Peel the self-adhesive sticker from its backing sheet and apply to your wall. House plants are all the rage, create the feeling of bringing the outside in, without the need for ever watering or repotting. Each leaf and stem are an individual wall sticker letting you use your creativity to design your own plant and fit it into the space you have available. Will sit in any room on it's own or in addition to our lovely cheese plant. Also available a choice of plant pot or plant basket to give you walls a little extra.
We print on FabriStick® a soft-touch woven material that is durable and self-adhesive, made from 100% polyester fabric free from PVC. We use eco-friendly UV-protected inks which are also water-resistant. Our wall stickers are reusable and repositionable without damaging your wall, an easy way to add design elements to any wall.
Product dimensions:
Sheet size: 70cm x 50cm
Leaves = 8 x various sized leaves [ranging from 15cm x 14cm to 24cm x 11cm]
Stems = 8 x various sized stems [ranging from 1.8cm x 18cm to 1.9cm x 42cm]
Plant pot option has the pot at 21cm x 23cm or Basket is 25cm x 25cm, please select your choice from the drop-down menu on ordering.
Colours: A range of greens, including a hint of cream, pink, red and blue.
We also have the original watercolour life size cheese, please see seperate listing.

Our stickers are: 100% polyester and PVC free and we print using water resistant ink, making these a great choice for nurseries and kids' rooms.
Designed, painted and hand finished in our workshop in West Sussex, UK.
*Helpful hint: Please be careful about newly painted walls; most take at least 30 days to cure fully, so please wait before applying the sticker if you have been painting or they might not adhere well and could damage the paintwork. Our fabric stickers are so simple to apply. Just peel them off the backing sheet and off you go! Please just first make sure that wherever you stick them, it is free from dirt and grease (wipe clean if required) and that it is dry. To note adhesion is not as effective on surfaces painted in 'washable paints' we would recommend sticking to surfaces painted in a standard emulsion for best adhesion.