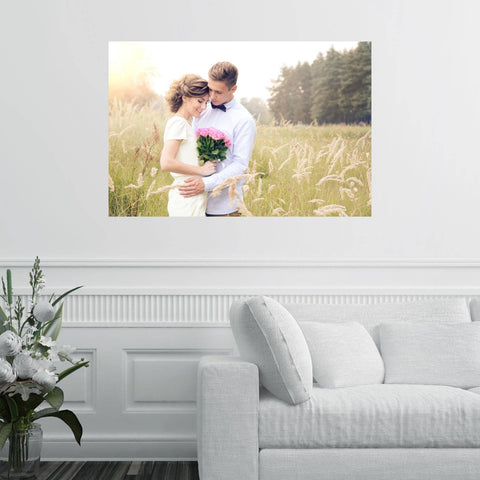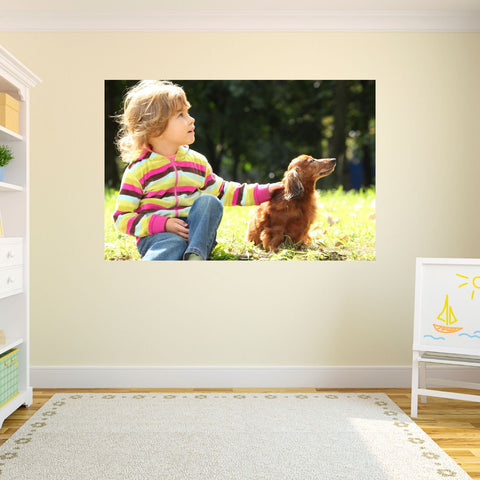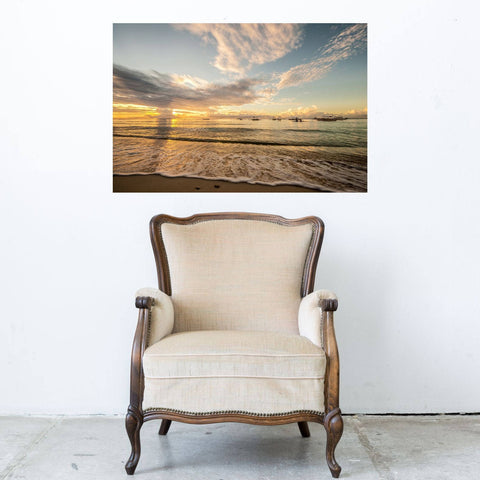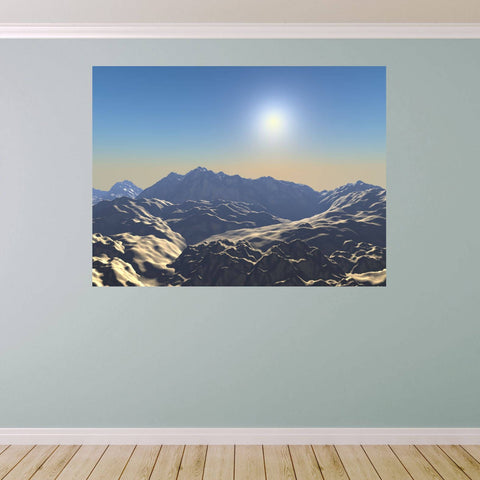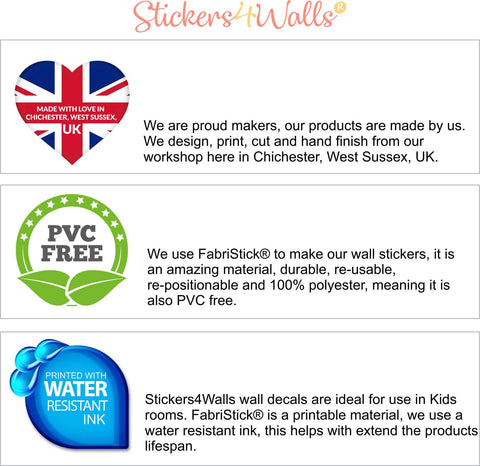 Stickers4Walls
Personalised 'Your Photo' Wall Poster Sticker
Print anything! Holiday photos, beach pics, the stunning sunset on your honeymoon, a beautiful photo of your children or grandchildren, your dog, cat or hamster on our high quality removable wall sticker material.
We can help! Just order one of our preset sizes below or request a custom order if you require a different size. We love printing peoples photos, it's a real pleasure. Our matt fabric wall stickers are really high quality and can be moved if required. They are not like the cheaper vinyl wall stickers that you find (although these absolutely have their place too!). Simply select a photo or photos that you would like printed, or scan in your artwork, and we will print it for you onto our lovely FabriStick® wall sticker material. We can cut it to be a square or rectangle, or we can profile cut if the image is suitable. Please note that if you would like to print a photo at a large size, the quality needs to be high otherwise it will appear pixellated. If in doubt, you can send it to us and we will check to see if it will print well
How to order:
Select the size you would like from below, or send us a custom order request if you would like another size. You can then send us the image you would like to use, either email us or we have a free "wetransfer" site for large files [logon at: https://stickers4walls.wetransfer.com/ ..and follow the instructions] - we can discuss what suits you! We then prepare it for production and there you go - we will send it out to you ASAP!
We are a small family business and pride ourselves on being helpful so if you have any questions please just get in touch. Please note that if you would like a wall sticker that is larger than the sizes listed, it will need to come in panels - but the sizes we have listed here will all come as one piece.
Our fabric wall stickers are really easy to apply. Simply peel off the backing sheet and stick it on the wall! We recommend starting centrally and smoothing out towards the edges. If you decide to go for the really big photo poster wall stickers, you may need an extra pair of hands to stick it up just because it is quite large. But if it twists or sticks on itself while you are putting it up, don't panic! Our Fabristick® wall sticker material is so tough you can simple unstick it from itself and it won't be damaged, and then just smooth it on the wall. Brilliant!
Helpful hint: Please be careful about newly painted walls; most take at least 30 days to cure fully, so please wait before applying the sticker if you have been painting or they might not adhere well and could damage the paintwork. Our fabric stickers are so simple to apply. Just peel them off the backing sheet and off you go! Please just first make sure that wherever you stick them, it is free from dirt and grease (wipe clean if required) and that it is dry. To note adhesion is not as effective on surfaces painted in 'washable paints' we would recommend sticking to surfaces painted in a standard emulsion for best adhesion.
Please note we are based in the UK - please see our shipping policies for estimated shipping times. All our products are designed and made in our workshop in Chichester, West Sussex UK.