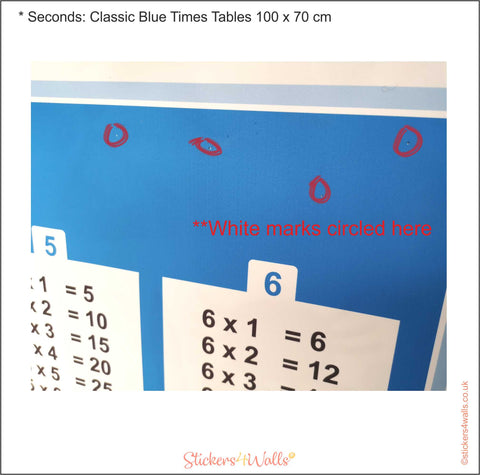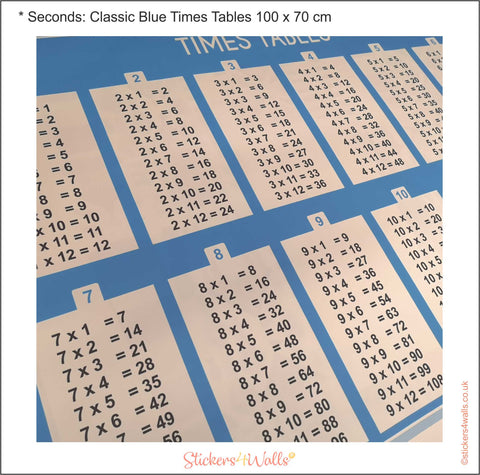 Stickers4Walls
Not Quite Perfect Classic Blue Times Table Wall Sticker
A slight second of our brilliant multiplication times tables wall sticker, suitable for use in children's bedrooms, playrooms, classroom. This high-quality fabric wall sticker has all 12 sets of the standard multiplication tables in a choice of designs. Please select the design you would like together with the size. In the classic blue design. 
RRP £47.99 on sale at £23.99
Straight out of our workshop, unfortunately, the fabric picked up four white marks during printing, please see the photo for a closer look. Here for half original price.
Our fabric wall stickers are really easy to put up compared to traditional vinyl wall stickers. You simply peel them off the backing sheet and stick them up! Keep hold of the backing sheet and if you need to peel it off and move it you can, if you move rooms around or move house. Ideal for back to school.

**Helpful hint: Please be careful about newly painted walls; most take at least 30 days to cure fully, so please wait before applying the sticker if you have been painting or they might not adhere well and could damage the paintwork. Our fabric stickers are so simple to apply. Just peel them off the backing sheet and off you go! Please just first make sure that wherever you stick them, it is free from dirt and grease (wipe clean if required) and that it is dry. To note adhesion is not as effective on surfaces painted in 'washable paints' we would recommend sticking to surfaces painted in a standard emulsion for best adhesion.