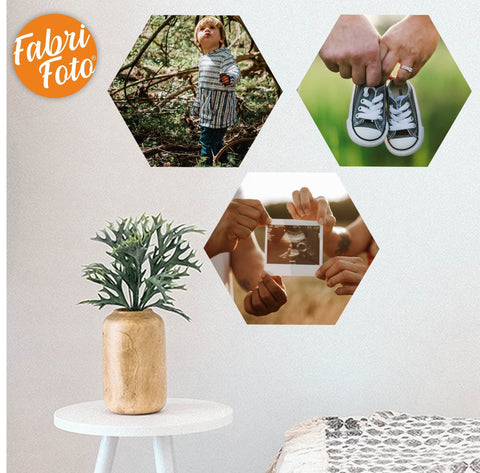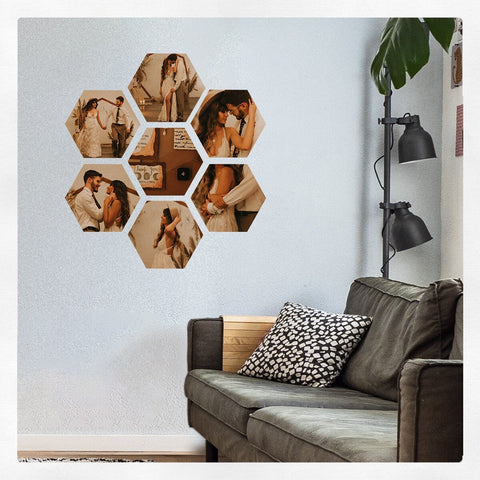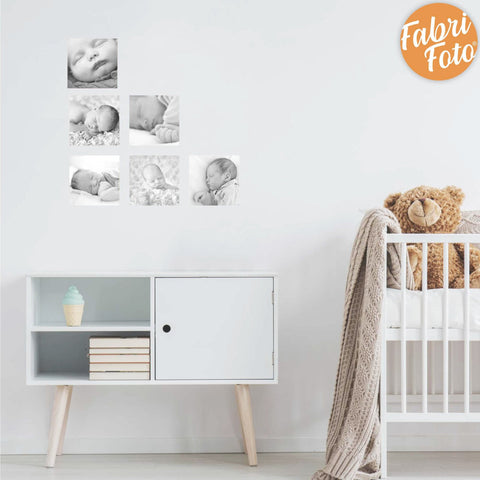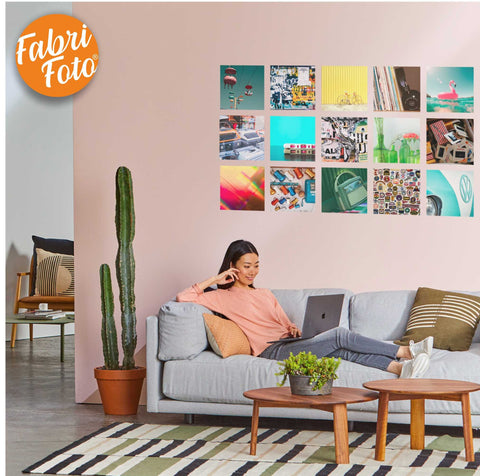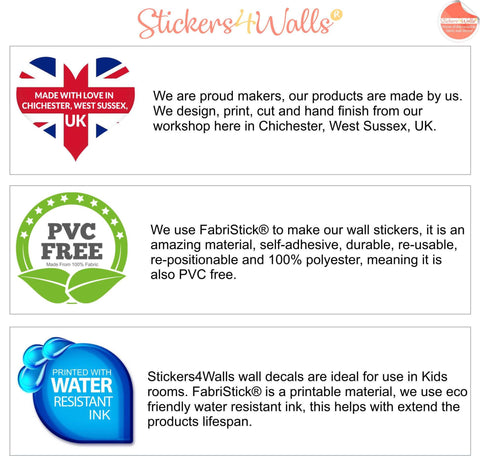 Stickers4Walls
Gift For Mum, Personalised Reusable FabriFoto Photo Wall Stickers,
Looking for a personalised gift for mother's day, make her smile every day with gift a set of reusable fabric photo wall stickers of your own photos. An easy way to display her treasured photo on any wall with our high-quality Fabrifoto® fabric wall sticker photo tiles. Available in sets of 3's, choose between a set of 3, 6, 9, 12, or 15 different photos. We print in two sizes too, either 20 x 20 cm or 30x 30 cm.
Gift inspiration for Mother's Day, birthdays or just any time, the choice is yours, pick her favorite photos, your children, family, friends, pets, or places you've been, these are a great way to get your photo art up on your wall. A brilliant addition to any home, instant wall art without the need for nails or glue. You can reposition easily and efficiently, and if you want to update your set just order more to add into your mix.
When you have ordered either email your images directly to us or upload your photos to our free "WeTransfer" file system - [logon at: https:/stickers4walls.wetransfer.com ...and follow the instructions given] It's dead easy, we promise! If you have any particular requests about your photo wall sticker, please let us know 'Contact Us' link on-screen.
Our FabriStick® fabric wall stickers are water-resistant, have a non-reflective, matt, smooth fabric texture, and do not tear. You can reposition them if needed, just peel them off the wall and re-apply elsewhere. Perfect for rental properties/offices or rented houses where you are limited to the decorations you can use.
We now offer you more choices, choose from Square, Circle, or Hexagon prints! All are available in either 20cm x 20cm or the larger 30cmx 30cm. Simply select your choice from the drop-down menu.
Please upload any file or logos needed to https://stickers4walls.wetransfer.com/ using your name and order number as a reference.
Looking for something similar, maybe bigger with more impact? We also print poster size photos.
*Please note we can only print at the quality of the original photograph, we want you to be happy with the finished product if we do think that an image you have sent is not of a high enough quality to be printed at the size you request we will contact you and ask if you would like to change the image for a different one. The larger the print the higher the quality of the required image.
Our stickers are:
100% soft woven polyester and free from PVC. We also print using eco-friendly water-resistant ink making these ideal for use in children's rooms and extending the life span of the product. You can reposition them many times over, simply peel off and re-stick! Happy Decorating!
Designed, printed and hand finished in our workshop in Chichester, West Sussex, UK.
**Helpful hint: Please be careful about newly painted walls; most take at least 30 days to cure fully, please wait before applying the sticker if you have been painting or they might not adhere well and could damage the paintwork. Our fabric stickers are so simple to apply. Just peel them off the backing sheet and off you go! Please make sure that wherever you stick them, it is free from dirt and grease (wipe clean if required) and that it is dry. To note adhesion is not as effective on surfaces painted in 'washable paints' we would recommend sticking to surfaces painted in a standard emulsion for best adhesion.