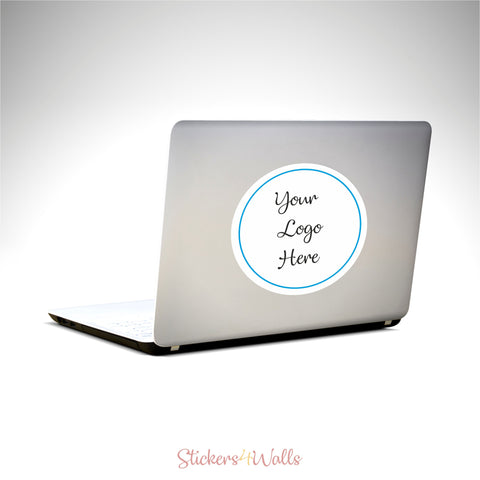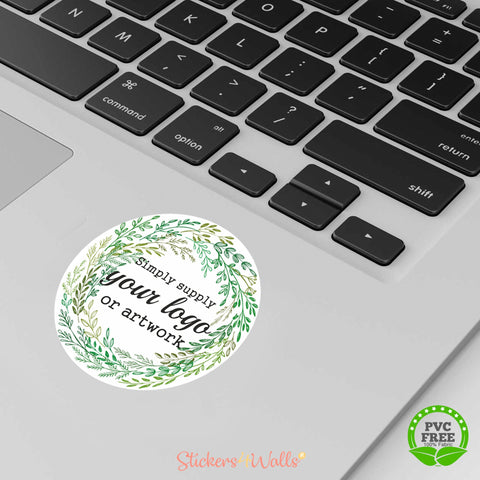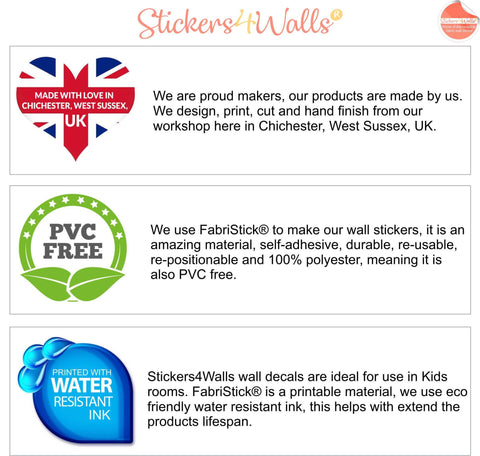 Stickers4Walls
Your Brand Logo Fabric Small Laptop Sticker - Reusable
An additional way to get your brand name out there and seen with your logo in small sticker form. Easy to apply, peel and stick, and equally easy to remove and reuse! Apply your brand to your laptop, drinks bottle, files, walls, or anywhere that suits you. Equally ideal to cover any laptop brand logo you may not be looking to advertise, and replace with your own brand.Available in three standard small sizes 8cm, 12cm and 18cm.
Your sticker will be printed as one piece, on Fabristick®. Fabristick® is really versatile, tough, water resistant, and does not tear. You can carefully peel it off the surface if you decide to move it, just keep the original backing sheet it comes on and you can replace it and move it. Being reusable makes it great for exhibitions, craft fairs, and events as well as office use. The fabric sticker is smooth to the touch with a matt finish. We can cut it to be a square, circle or we can profile one-piece cut if the image is suitable. This is an individual sticker if you are looking for multiples of the same sticker please get in touch for a quote.
Please note the quality of the original image you send us needs to be high, otherwise, there is the possibility it will appear pixellated. If in doubt, you can send it to us and we will check to see if it will print well.
Just choose the size you would like your graphic to be from the drop-down menu. We offer standard sizes as a price guide, if you have a particular size or space that you need to fill and it is not listed here, please just drop us a message to request a custom order and we are happy to help. 95% of our orders are bespoke, we are happy dealing with all sorts of requests!
When you have ordered, you will need to send us your logo or artwork. You can do this through a 'Contact us' button, or you can email us - we will be in touch.
Please upload any file or logos needed to https://stickers4walls.wetransfer.com/ using your name and order number as a reference.
The standard sizes we offer are:
8cm x 8cm
12cm x 12cm
18cm x 18cm
Please get in touch if you require another size!
We go wall sticker-sized versions of this product, please see separate listing.
*Important: Please be aware that logos designed for use on social media accounts are likely to be of a low res as they commonly have been designed for use at a very small scale - unfortunately, these may not suitable to enlarge to a bigger size, please feel free to check with us prior to ordering if you are not sure.
PLEASE NOTE: THIS IS NOT A DESIGN SERVICE. YOU NEED TO HAVE PRINT-READY ARTWORK.
**Helpful hint when applying to walls: Please be careful about newly painted walls; most take at least 30 days to cure fully, so please wait before applying the sticker if you have been painting or they might not adhere well and could damage the paintwork. Our fabric stickers are so simple to apply. Just peel them off the backing sheet and off you go! Please just first make sure that wherever you stick them, it is free from dirt and grease (wipe clean if required) and that it is dry. To note adhesion is not as effective on surfaces painted in 'washable paints' we would recommend sticking to surfaces painted in a standard emulsion for best adhesion.
***Please note that we are based in the UK. Please see our shipping policies for an estimate of shipping time. All our products are designed and made by us in our workshop in Chichester, West Sussex UK.