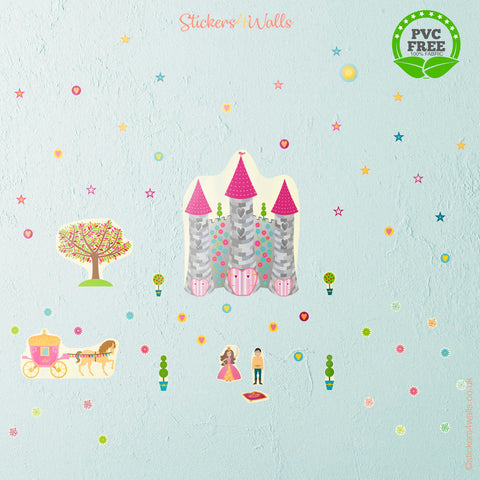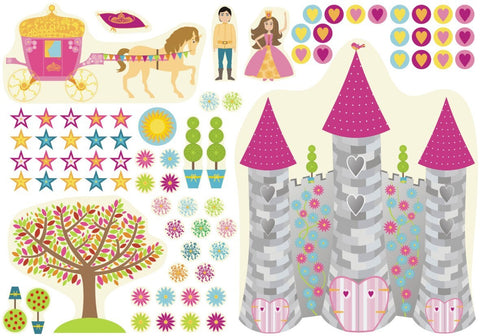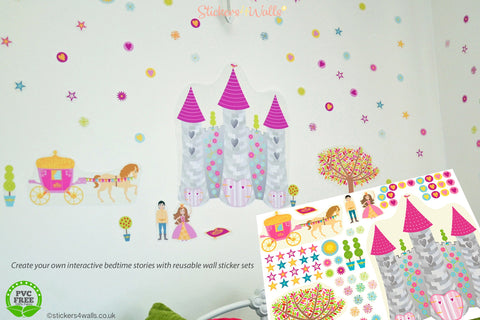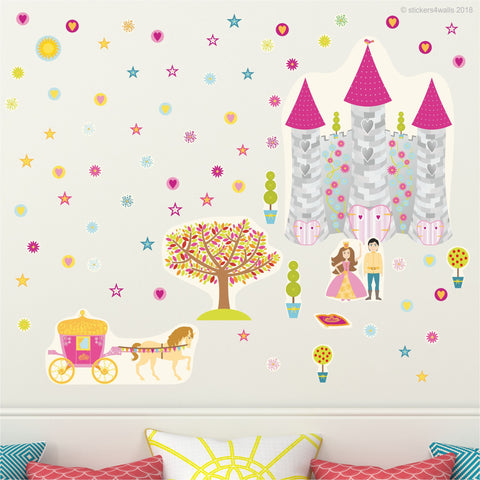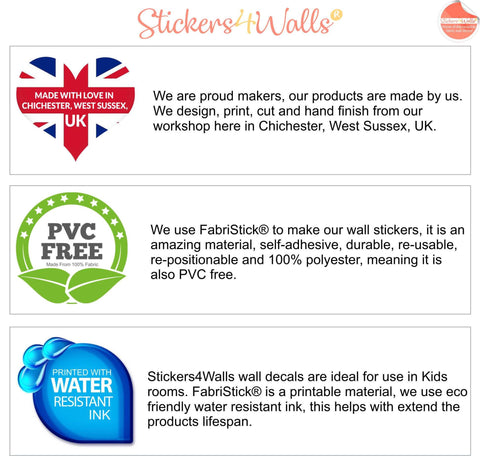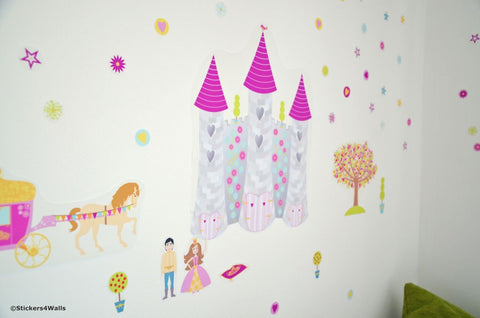 Stickers4Walls
Interactive Princess Fairy Tale Story Sticker Set - Reusable
A fabulous set of Princess wall stickers, reusable and repositionable fabric story stickers. Set includes the Princess and Prince, their grand castle and magical garden. Spark little-one's imaginations with these gorgeous fabric princess wall stickers, that include a large castle, beautiful horse and carriage, flowers, hearts and trees - and the all important Prince and Princess of course! In lovely bright candy colours, these wall stickers will brighten up a bedroom or playroom perfectly. Our wall stickers are made of a tough durable fabric, you can add the stickers to your walls creating your own Princess room design, being repositionable you can adapt and move the design as and when you like without damaging the wall. Ideal for an interactive bedtime story, make you walls come to life with your own story time.
Once upon a time....there was a brilliant/clever/mischievous/beautiful* princess.... *delete as appropriate - however you tell it, your child will love it! The perfect wall stickers for your little princess.
What are fabric wall stickers? Made from strong, durable adhesive fabric, they are super tough, they do not tear like some plastic single use wall stickers. They can be repositioned time after time without losing stick, without causing surface damage. These stickers are waterproof and have a tactile, smooth, matt fabric texture. 100% polyester and PVC free, printed with eco-friendly water resistant inks. Self adhesive, and will stick to pretty much any surface - walls, radiators, wardrobes, you name it! Really easy to apply and repositionable unlike vinyl wall stickers, perfect in rented accommodation, no nails, no mess. Please just first make sure that wherever you stick them, it is free from dirt and grease (wipe clean if required) and that it is dry. Happy Decorating! We absolutely love them, and we hope you will too!
Please note that we are based in the UK. Please see our shipping policies for an estimate of shipping time.
Product Details:
Quantity& sizes per sheet
1 Castle 30cm x 25cm
1 Prince, 1 Princess 8cm
1 Horse & Carriage 10cm x 21cm
1 Cushion & Crown 6cm x 2cm
1 Sun 4cm
2 Bushes 7cm x 23cm
2 Apple Trees 5cm x 2cm
1 Large Tree 14cm x 16cm
20 Hearts 2cm
24 Flowers 2cm (2 styles, variety of colours)
20 Stars 2cm
*Helpful hint: Please be careful about newly painted walls; most take at least 30 days to cure fully, so please wait before applying the sticker if you have been painting or they might not adhere well and could damage the paintwork.
Our stickers are:
All our products are designed and made in our workshop in Chichester, West Sussex UK.