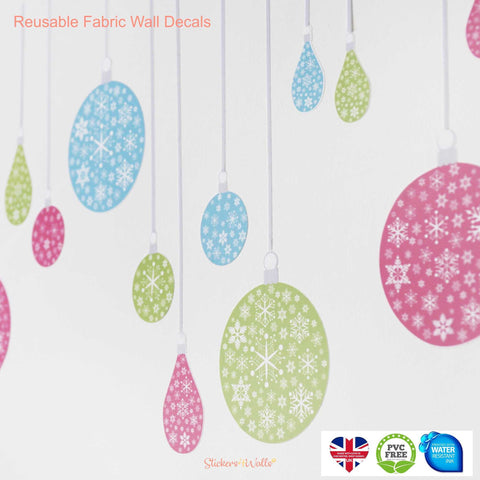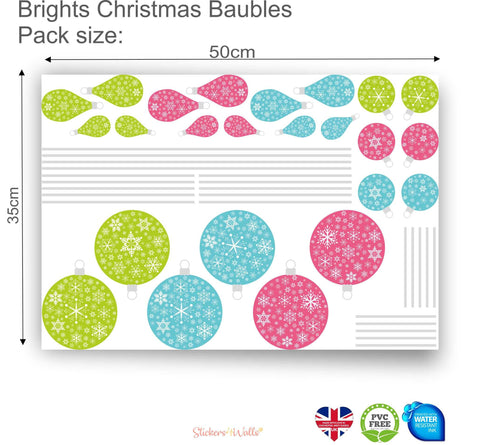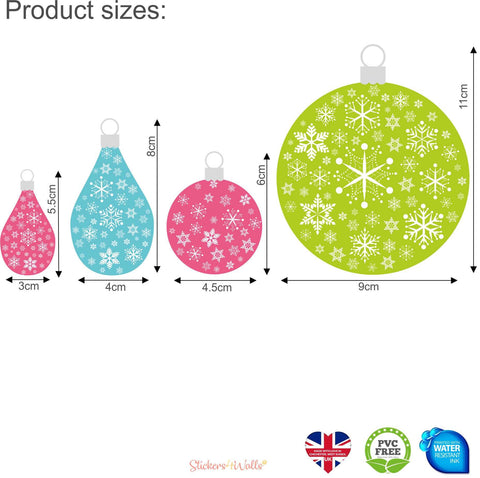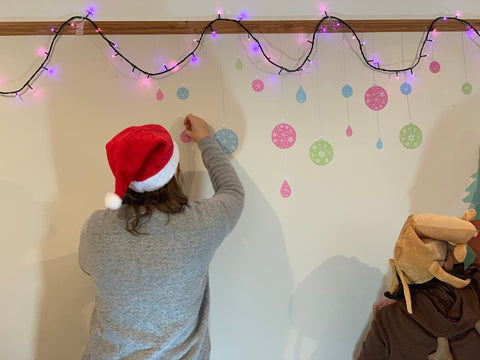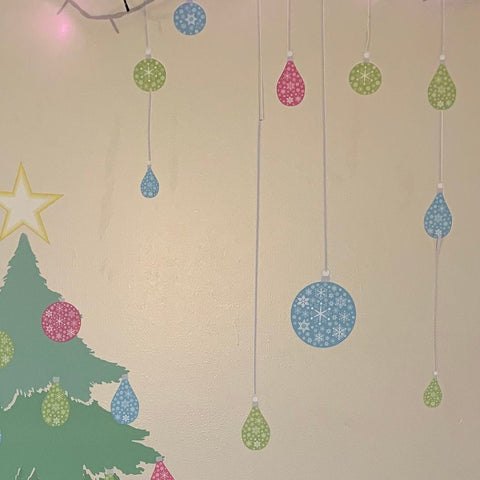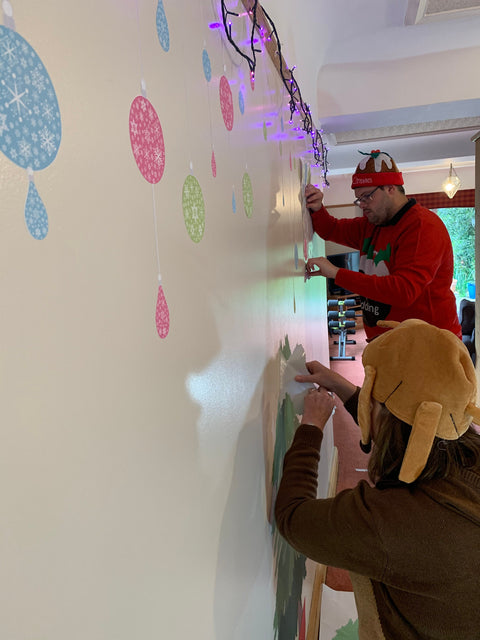 Stickers4Walls
Christmas Bright Colour Fabric Wall Sticker Baubles - Reusable
Create a beautiful Christmas bauble design in your home with these colourful festive wall stickers! There are 24 baubles in a pack in a range of sizes in a 'Brights' colour scheme, in pink, turquoise and green including string stickers to hang them. They look great hanging from on the wall, or giving a touch of Holiday magic to your cupboards, doors or even mirrors! The baubles featuring a traditional snowflake design and are sure to give your home a quick and stylish festive lift.
Our FabriStick® wall graphics are reusable and removable, you can change the designs around as you desire as they are self-adhesive and re-positionable. You can apply your wall stickers to walls, cupboards, glass - pretty much any smooth or even bumpy surface. After all your holidays and New Year Celebrations, simply peel them off and store them on the backing paper to use again next year.
Our FabriStick® wall stickers are 100% polyester and PVC free, in addition we print with water-resistant ink. FabriStick® wall stickers are as easy to remove as to put up, and they will not damage the surface or any residue behind. We absolutely love them, and we hope you will too! A really quick and fun way to brighten up your home interior. Perfect in your home, rented accommodation, you name it - just peel and stick, no nails or glue required.
Object Dimensions:
6x Large round baubles 112mm x 94mm
6x Small round baubles 60mm x 46mm
6x Medium teardrop baubles 77mm x 40mm
6x Small teardrop baubles 52mm x 27mm Long strings 385mm long
6x Medium strings 190mm long S
6x Short strings 100mm long
Our stickers are:
100% soft woven polyester and free from PVC. We also print using eco-friendly water-resistant ink making these ideal for use in children's rooms and extending the life span of the product. You can reposition them many times over, simply peel off and re-stick! Happy Decorating!
Designed, printed and hand finished in our workshop in Chichester, West Sussex, UK.
*Helpful hint: Please be careful about newly painted walls; most take at least 30 days to cure fully, please wait before applying the sticker if you have been painting or they might not adhere well and could damage the paintwork. Our fabric stickers are so simple to apply. Just peel them off the backing sheet and off you go! Please make sure that wherever you stick them, it is free from dirt and grease (wipe clean if required) and that it is dry. To note adhesion is not as effective on surfaces painted in 'washable paints' we would recommend sticking to surfaces painted in a standard emulsion for best adhesion.