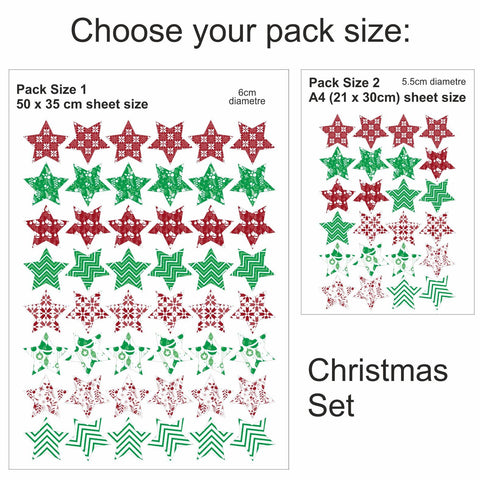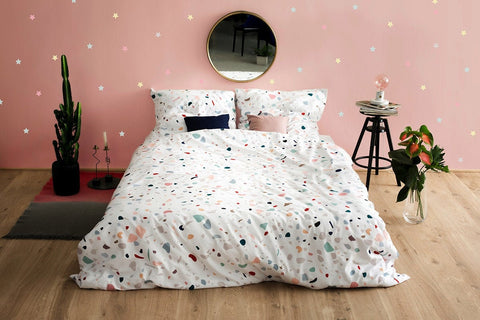 Stickers4Walls
Christmas Green and Red Patterned Fabric Star Wall Stickers - Reusable
A beautiful set of coloured of Star Wall Sticker Wall Decals, available in Christmas greens and reds . High quality durable fabric wall decals for the home. A pack of 24 or 48 star wall art ideal for decorating a newborn's nursery, Child's bedroom or playroom. Just peel them off the backing sheet and off you go! Please just first make sure that wherever you stick them, it is free from dirt and grease (wipe clean if required) and that it is dry.
Choose between two different pack sizes:
Pack 1: 50 x 35 cm sheet: 48 stars, each star 6cm diametre
Pack 2: A4 (21 x 30 cm) sheet: 24 stars, each star 5.5 cm diametre.
Christmas set: Seasonal designs in red and green.
Our stickers are: 100% polyester and PVC free so make a great choice for nurseries and kids' rooms. Self adhesive, and will stick to pretty much any surface - walls, radiators, wardrobes, you name it! Printed with water resistant ink You can reposition them many times over, simply peel off and re-stick! 
Designed and hand finished in our workshop in West Sussex, UK. Helpful hint: Please be careful about newly painted walls; most take at least 30 days to cure fully, so please wait before applying the sticker if you have been painting or they might not adhere well and could damage the paintwork. Our fabric stickers are so simple to apply.