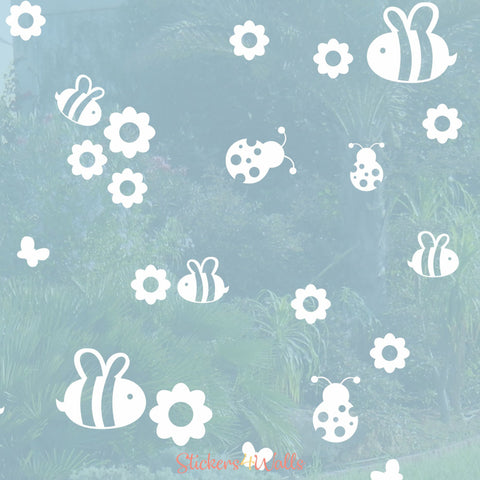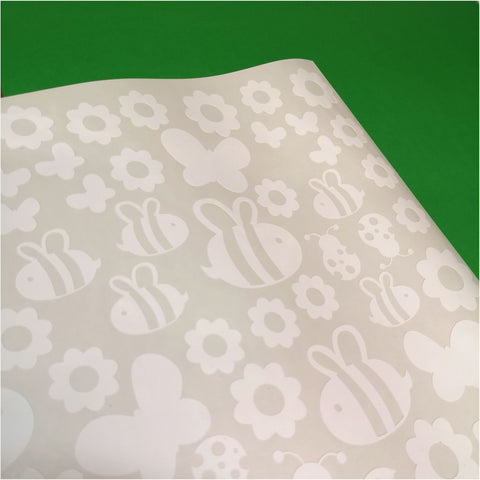 Stickers4Walls
Bees, Ladybirds & Butterflies Spring Window Cling - Reusable
A whole sheet of Bees, Ladybirds, Butterflies, and Flowers. Perfect for use on windows at home or in a shop or business window. Instant Window decoration, the pack contains lots of flowers, ladybirds, butterflies and bees to add extra fun to glass! Designed to match our Easter Rabbit window cling sheet, same Bees, Ladybirds, Butterflies and Flowers minus the Rabbits, making them suitable for use all year round. Made from soft PVC static cling vinyl, easy to peel and apply, repositionable and reusable without leaving any residue. These stylish white swallow window stickers are a quick and effective way to add decoration to your windows, mirrors and smooth surfaces. We use high-quality window cling, which sticks to your windows using static, in addition the cling properties work on both sides of the sticker without the need for any glues. They are perfect at any time, can be used all year round, we recommend you keep the back sheet, should you want to you can remove the birds and place them carefully back on the backing sheet ready to reuse. Window cling can be used as internal or external decoration.
This pack includes 18 bees, 10 ladybirds, 33 butterflies and 56 flowers.
These window stickers can also act to prevent birds flying into windows and doors. They are particularly useful on windows where there is a clear view through the building, for instance from front to back. Birds can mistake this clear view for a clear path and try to fly through. Something as simple as one of these stickers can help prevent birds flying into windows and getting hurt or killed.
Sheet size: 54cm x 28cm
Item sizes:
Bees: 5x6cms and 3x3.5cms
Ladybirds: 3.5x4.5cms and 2.5x3.5cms
Butterflies: 5x5cms and 2x2cms
Flowers: 4.5x4.5cms and 2.5x2.5cms
How to use them:
Simply peel the stickers from the backing sheet and get creative! If you want to remove them, just peel them off the glass - and if you want to, re-store them on the carrier paper. They are ideal for rented properties where you are limited by what you are allowed to do with your decoration but wish to personalise your living areas.
Please note we are based in the UK - please see our shipping policies for an estimate of shipping time. All our products are designed and made in our workshop in Chichester, West Sussex UK.